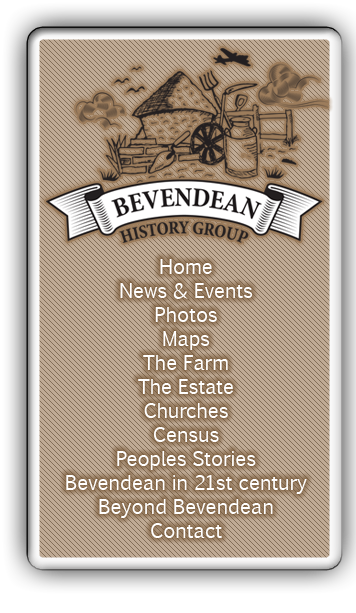 Moulsecoomb - Bevendean History Project

Moulsecoomb Place

Some History of Moulsecoomb Place


| | |
| --- | --- |
| | MOULSECOMBE means Mul's cumb (combe) or valley. |
| Year | Notes complied by Mr. Frederick Harrison. M.A. |
| AD 686 | Caedwalla, King of the West Saxons, slew Beortham, caldorman of Sussex, and reduced that province to severe servitude. He and his brother Mul, then ravaged Kent. |
| AD 687 | The Kentish-men having cruelly surrounded Mul, with fire, he was burnt to death with twelve of his soldiers. |
| 1086 | Domesday Book. In Falmere Hundred Gozeline holds one hide in Molstan of William (de Warrene). Azor held it of King Edward (The Confessor) at the Manor of Hoingsdene (Ovingdene). It has not paid gold (land-tax). In demense is one plough. It is (and was) worth twenty shillings. (Gozeline held lands also in Firle and in Willingdon). |
| 1620 | (There is a reference in "Rowe's Book" (1620) to Moulstone). A certain householder in the Hampshares, John Gillam, had the right of drawing water from a spring in Moulstone. There are two wells, one brackish, under the house, near the kitchen and another under the quince tree near the great barn, on the south of it. |
| 1296 | In the Subsidy Roll:- (For Edward I Scotch War). Village de Brystelmestone at Molscumbe … 119s. 1¼. |
| 1541 | In the Grant by Henry VIII to the Lady Anne of Cleves, the tithes of Mullescombe are included. Hence the probability of the old Tithe Barn being in situ at this time. |
| 1629 | Thomas Humphrey, fisherman, by his will bequeathed to the town 40 shillings per annum - left as a rent charge - payable out of "the tithes in the hamlet of Mousecomb, for ever. |
| 1630 | Sir Edward Colepepper was seized of a farm and tenement, (i.e. the cottage), called Mousecombe in Clayton, He built Wakehurst Place. |
| 1662 | Richard Webb (of the Inner Temple) held Moulsecombe. He may have been the builder of the house. |
The House is of different dates, having been enlarged and altered at different times. The cottage at the rear of the house is the oldest part, dating from the end of the fourteenth century (Richard II).
The kitchen and adjoining rooms date from the latter years of the seventeenth century and the commencement of the eighteenth. The dovecote is apparently also of late seventeenth century date.
The mahogany doors were given to Mr. Benjamin Tillstone by the Prince Regent, and may have come from Grove House, when it was demolished for the building of the Royal Pavilion.
The dovecote was converted into a garden room and called "The Prince's Bower" as the Prince Regent was a frequent visitor and enjoyed this retreat.
Benjamin Tillstone (1752-1829) was most energetic and successful. He owned a thousand acres of land adjoining. He had a ship-building yard at Shoreham and his brother, Thomas, was a captain, owning some fishing boats in Brighton.
Benjamin Tillstone superimposed a facade of Georgian-Italian style upon the Queen Anne structure, in 1790.
A fine brass alarm bell, or tocsin, used to hang in a small turret. In the hall there is a secret panel, now closed. The niche, where there was a sentry box, can still be seen in the wall on the south of the house. The west front of the great barn is modern.
The exterior of Moulsecoomb Place with servants looking out of the upstairs windows and Benjamin Rogers-Tillstone, the owner, and the possibly the gardener in the garden below in the 1890s.
continued
photographs