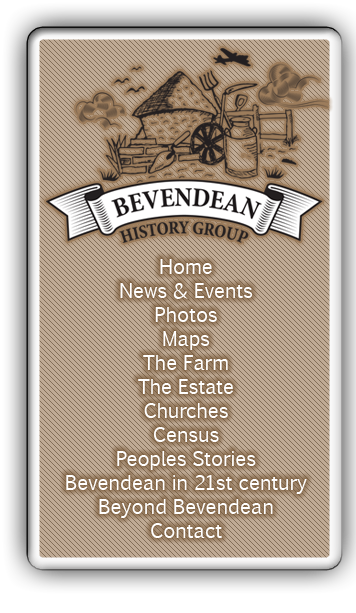 The Estate - Bevendean History Project


Norman Allcorn - War Time Memories

I came in from play at a few minutes to eleven on 3rd September 1939 just in time to hear the prime ministers announcement. Our radio was in a wooden cabinet with a fretwork front and was powered by an accumulator.
Mr Chamberlain's sombre tones came through the loudspeaker, "I have to tell you that no such assurance has been received and that we are now at war with Germany". Then the air raid siren sounded and we all trooped down to our vaulted cellar, including two people who had come to the back door to buy eggs. Shortly afterwards the all clear went! The war caused the Allcorn family to leave Bevendean when it was taken over by the 'War Agricultural Committee' in 1942. It is quite possible that we would have been gone by then anyway. The town was expanding and the war merely delayed the development of the Bevendean estate.
Of course there were changes as the farm had to produce more food, especially corn. We hired a Fordson tractor to help out with the work done by the horses. Labour was scarce and my mother learned how to milk. My father was in the Home Guard. He was used to handling shot guns and was very strict about gun safety. Now he had a rifle and later a sten gun.
It could not have been easy doing night duty on the racecourse and coming home to milk the cows. Nights were cold and even the Canadian soldiers were complaining. "Surely you are used to the cold" my father told them. "Yes a dry cold" they replied. "Not this damp cold which gets right into your bones".
When the invasion threatened, beach huts were taken from the sea front and placed in the cow meadow. This was to deter gliders from landing there.
Unfortunately there was a shortage of both timber and fire wood and the huts gradually 'disappeared'. My father made a chicken coop from some of the wood. The huts were replaced by scaffold pole 'A' frames with steel ropes slung between. Rolls of barbed wire were placed between the cow meadow and the houses of 'Happy Valley'. Not ideal for cows with their delicate udders. One cow did get its leg caught and had to be cut free.
I was never evacuated. I do not know why as Bevendean was only a short distance from one of Hitler's chosen landing beaches. For a short time we had half day schooling as London children were evacuated to Brighton. This crazy idea of moving children to the south east was soon reversed and we went back to full days at school. Of course gas masks had to be taken with us at all times.
I only had two close encounters with the enemy during the war. (The second was with a doodlebug in 1944 in East Sussex). I was coming home from school at lunch time and had reached the top of Widdicomb Way, when the road suddenly became deserted. I heard no air raid siren, but as I looked up I saw two German planes, almost level with me, flying westwards down the valley. A bomber and a fighter, and I remember how menacing they looked, with their big black crosses. There was a burst of gun fire and I dived behind a wall. I made my way home to find that the farm had been attacked. Fortunately the gunners aim was poor and he only hit the large tree by the cow-stall. The bullets cut some finger sized twigs from the tree before passing harmlessly on into the cow meadow. The same field that I had to cross to get home! If I had been a few minutes earlier or the planes a few minutes later then I might not be writing this today.
My Family moved from Lower Bevendean Farm Brighton a few days before Christmas 1942. That was my Grandparents Parents and myself aged just 10 years. It was a grey overcast windy winters day following overnight rain.
The first of the two removal vans got stuck in the slippery, narrow gateway of the front drive which had been designed much more for pony and trap.
The second van had to start loading from the back door across the back yard. In doing so this upset my mothers careful planning of which was to be loaded first. Worse was to come because the removers had underestimated the large farmhouse furniture and it would not go all go on the two Lorries.
Left behind were those essentials like a kettle, mugs and a packet of tea. Also left behind were my Christmas presents. I finally got those 10 days after the event. I was upset to find that Loppy my pet black rabbit was not coming with us and even more upset when I remembered that we had had rabbit for dinner the previous Sunday.
The reason we were leaving Bevendean was because my Grandfather was too much of a traditional farmer, some would say 'stick in the mud'. The country needed food but he had not moved on from the 1930's, a time of cheap imports and low incomes. Our neighbour had a caterpillar tractor pulling 5 furrows and milked his cows by machine. Our flock of Southdown sheep had been sold and we were still using horses and milking the Shorthorn cows by hand. (I had started hand milking on my 7th Birthday).
All this did not impress the War Agriculture Committee and so they had 'Compulsorily Requisitioned' the farm. By a grim irony this same committee had offered my father a job as farm manager at a farm that had been similarly 'requisitioned'. This was Messens Farm, Ninfield. Eventually the removal vans got away and I was allowed to travel in the cab with the workmen. We arrived at Messens Farm in the middle of the afternoon with not too much daylight left. All would have been well but the outgoing occupants were still there! The farmer's mother and wife were in the house but the farmer was stomping around the farmyard with a shotgun under his arm. The local 'Bobby' arrived and quietened things down. We started unloading, under police escort, through the front door while the others were still moving out of the rear of the house. When both lorries were empty the policeman said all should be well but not to go into the kitchen as crashing noises had come from there. (In the morning my grandmother was annoyed to find that someone had taken a sledgehammer to a lovely old built in Welsh Dresser and smashed all of the shelves). With the kitchen out of bounds, tea was made by boiling a saucepan on an open fire and my father cycled to Sidley for fish and chips.
I then went to bed but my most abiding memory of the day was yet to come. This was waking up and going to the toilet down a long dark passageway with a gale howling wolf like through the pine trees at the side of the house. Even now, after all this time, I can still close my eyes and imagine myself back in that black corridor and hear that eerie mournful wailing wind!

1940s_War_Time_Stories_002