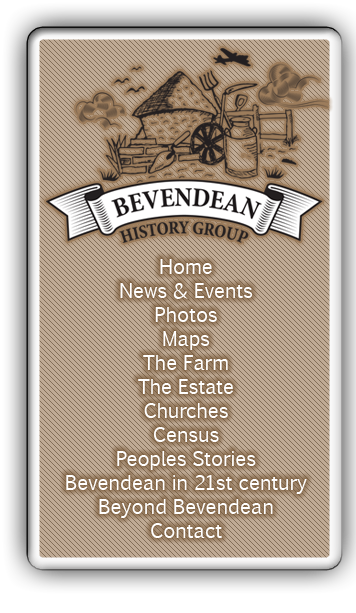 The Estate - Bevendean History Project


Douglas Brown - War Time Memories of Living in Brighton

We were living with my grandparents in Tooting when the Second World War broke out in 1939. Mum decided that it would be better if we moved out of London, so that was how we came to Brighton.
When you see what happened to London during all the bombing, she was right. We had a flat in College Road and I went to St Marys Church School.
In 1941 my brother returned home. He had been all around the world many times on all sorts of cargo ships and ocean liners. When he had landed in New Zealand he left his ship to join the New Zealand Army, he was trained as a gunner in the artillery unit and sometime later was allowed to return to England to join the Royal Air Force. He worked his way back as a gunner on an armed merchant ship.
We moved once again this time to St Georges Road.
I well remember going out after every air raid to look at the bomb damage. I was able to pick up pieces of shrapnel, burnt out fire bombs, cartridge cases and spent bullets etc.
I had a great time watching the A.A. Guns firing at German planes and the flying bombs. I remember one time watching a spitfire shooting down a German bomber, which ended up going into the sea. This was all great fun and excitement for a young boy.
We moved yet again, this time to College Street in Kemp Town.
One Saturday morning I was to have gone to the Childrens Club at the Odeon Cinema in Kemp Town. As I had been giving mum a bit of trouble (I must have been a little bugger), she would not let me go. That morning the cinema received a direct hit from one of a string of bombs dropped by a German bomber. Many people, most of them children were killed or injured. That could have been the end of this story.
In 1941 mum married Arthur Potiphar. He really was a very nice man, everybody liked him. I could not have wished for a better stepfather. They had met at the Savoy Cinema in East Street where Arthur was the head doorman, mum started work there looking after the hats and coats for the customers. This was great; I now had a complimentary ticket to the cinema every week, best seats in the house.
At about this time I started going to Park Street School. What a school, I wouldn't say it was tough, but even the teachers went about in pairs. You think I'm kidding. Anyway you did get used to it, you soon found out how to look after yourself and "do unto others before they do to you" as they say.
In July 1943 mum received a telegram to say that Cyril had been killed in action. This was a great shock to all of us, to me my brother had always been a hero and I felt a great loss. He was a sergeant wireless operator/air gunner on a Lancaster bomber and had been stationed at an airfield near Peterborough. He was one of a seven man crew on S for sugar in 61 Squadron.
His plane was shot down during a raid on Hamburg in Germany and his grave is in the military cemetery outside that city. He had a very short, but very exciting life. He was only twenty-two.
When I left school at the age of fourteen I started work at the Curzon Cinema in Western Road as a trainee projectionist, I spent maybe two years there.
I got fed up having to watch the same film over and over again so left and took a job at the old Kemp Town Brewery, first in the stores and then as a drivers mate. It was a good job, we went all over Sussex making deliveries and it had the added bonus of good tips and plenty of free beer.
In 1947 I decided to join the Army; I was under age, only 17 years old, so had to put my age up by twelve months. You could get away with that in those days.
© Douglas Brown 2014
1940s_War_Time_Stories_004