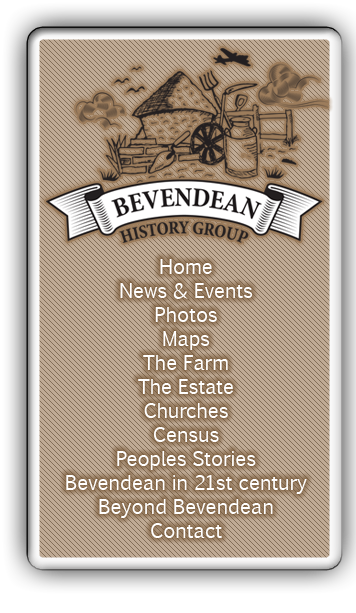 The Estate - Bevendean History Project


Oh to be Evacuated
- Raymond Bond

I can remember being in the shelter at Elm Grove Infants School, the "all clear" going, and then returning to our desks, then hearing a plane, and the teacher saying, not one of ours under the desks. We hid under the desks then and there were two loud bangs.

I came home and mum said it was time to be "evacuated". I went down with measles, but my two older sisters were evacuated in a very short time, with me following two weeks later.
I cannot remember leaving Brighton but remember being on the train with eight others all about my age, locked in a compartment, the train guard checking on us to see if we wanted the toilet etc., all with gas mask, label and the case for the few things we could take with us.
Evacuees at Brighton Station with labels on there clothes tpo say who they were.
At Victoria station the guard handed us over to 3 ladies dressed in dark green, who signed for us and put us on board a type of people carrier, having never been in a car before this was quite an experience. We drove across London to King's Cross station I think, to be put on the train to Manchester.
Having checked that we had something to eat and drink the train guard signed for us again and we were locked in a compartment for the trip, the train guard checking that we were all right every half hour or so. It was a long journey and we arrived in Manchester in the early evening. It was dark and having been signed for by ladies in dark green, four of us were put in the back of a car with two ladies in front, driving up 5 to 10 miles an hour, with hooded headlights so you could only see two or three yards in front.
We drove through built-up areas and out into complete darkness in country lanes. After a while the passenger lady, kept going up to places knocking on the door then getting back in the car to drive to the next building, they knew which houses had evacuees but did not have a list of the children there so she was writing the names down, for their records till they found our places.
I ended up with my eldest sister with Mr. and Mrs. Kear in Oldham Road at Lydgate (12 miles north of Manchester). They were very strict but very fair. The one thing that sticks in my mind, when they brought anything on ration you had your share in your box in the Larder and you ate that in that week, other items were in the larder which you all shared.
Mr. Kear had two model boats made to scale, Queen Mary and Queen Elizabeth 1200 to 1500 mm long which most weekends we went across the road into the field to 2 ponds. We then filled the engines with water and a burner and when steam appeared it sent the boats across the water. One time doing this, I fell in and ended up covered with boils, having five or six kaolin poultices put on twice a day, very painful I remember.
After a short time my sister and I were moved very quickly to Mrs. Dunkerton at the Bungalow on the Hill, Burnege Lane, Lydgate. We were only there for weeks and then moved to Mr. and Mrs. Steele at Springfield Farm, Burnege Lane where we stayed for the rest of our time.
I was just six and a bit when I left Brighton and arrived back just to spend six weeks in Elm Grove Junior School and in that time took my 11 plus exam.
I went back to the Steels for my summer holidays until I was 15 and saw them many times after.
We were told later that we will move from Mr. and Mrs. Kear's as they asked to adopt me but not my sister, my father objected.
I also learnt later that Mr. Kear was at Manchester docks and responsible for repairs of any damage to ships and ensuring that they had a seaworthy certificate before they sailed again.
Raymond Bond
Editors Note
At the start of the war some children were evacuated from London to the South Coast including Brighton, but with the threat of an invasion and the bombing of south coast town the children went back to London or were evacuated away from the south coast.
7 December 2019


1940s_War_Time_Stories_007