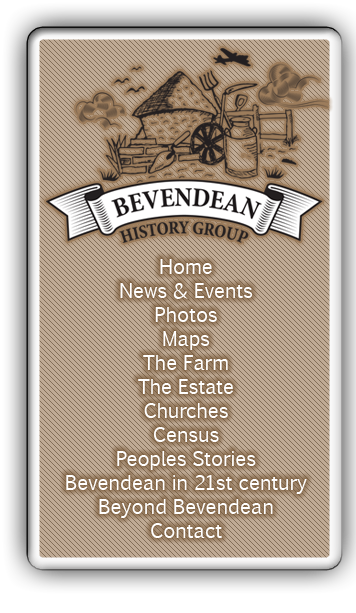 The Estate - Bevendean History Project


Dot & Ron Mepham Memories of World War 2

Dot lived in Round Hill Crescent, near the old railway line to Kemptown. She remembers that they had a Morrison shelter in a ground floor room. The shelter was made of steel and was 7' x 6' x 2'6" tall as shown in the picture below.

The following items were kept in the Morrison shelter, a mattress, pillows, blankets, a bottle of water, a hammer and a poker in case they needed to bang on the ceiling to attract attention. There was always milk which was replaced every day with fresh, a tin of biscuits with the biscuits being eaten every so often and replaced with fresh biscuits. They also kept a potty in the shelter.
Dot remembers that with friends she tap danced on the top of the shelter as it made a nice noise. She slept in the air raid shelter as she was afraid to sleep at the top of the house. One of her uncles saved up his sweet coupons and sent Dot to the sweetshop once a month. There was always a Mars bar on the list, which was given to Dot for being a good girl and going and buying the sweets.
When she went to the grocers with her mother they were always given a little extra as they were family. People clubbed together and saved coupons so that if anyone was getting married they could get enough material to make a wedding dress and buy extra food.
At the age of eight years Dot was sent to North Wales to a place called Greenfield and then to Holywell which was a farm where she stayed for about 18 months. Every morning she had to walk over the mountain to deliver cans of milk and the houses she went to were in opposite directions so she had a lot of walking to do before going to school.
The school was in a different direction over the mountain and was held in the village hall, there were four classes and two teachers, Dot was in the middle between the two teachers and she never knew which teacher to listen too.
Once when Dot's Aunt went to visit her in Wales she took her a blue velvet dress, later it was washed and put on the line to dry. When everyone got home at the end of the day they found just two sleeves of the dress left hanging on the line, a calf had eaten the rest.
There was a turkey called Roberta in the back garden at Roundhill Crescent and it became her friend, she feed it with pieces of apple. It disappeared one day and she found that she was eating it on Christmas Day which made her very unhappy, because it was her friend.
Ron lived in Newick Road during the war. The family tried to dig a hole in the garden for an Anderson shelter but they could not dig deep enough to reach the chalk subsoil so they were unable to have this type of shelter in the garden. Instead they had a Morrison shelter in the front room of the house.
Ron remembers that a V1 rocket landed opposite the Swan Inn at Falmer but did not explode. Ron with some other boys went on their bikes to have a look.
On another occasion Ron scrambled over the wall into Stanmer Park but was arrested with some other boys for scrumping apples. The Canadian soldiers in the Park took pity on the boys and picked some of the apples and put them into bags for the boys to carry home.
They both remember that you were able to leave your doors open and people were prepared to help each other out, not like it is today. Despite the hardships and rationing during the war and after, they both said they had a good childhood, neither of them can remember anything really horrible happening in the war although they know now that terrible things did happen.

1940s_War_Time_Stories_008