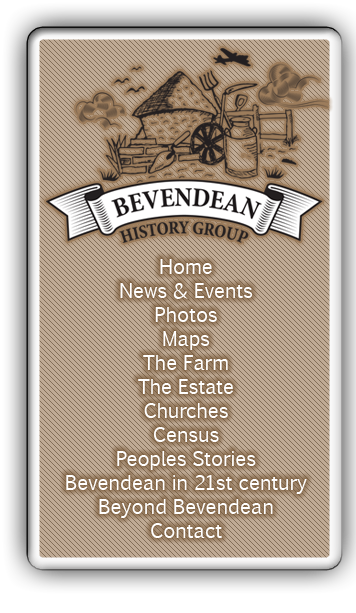 The Estate - Bevendean History Project


Jack Allcorn, My Father: An Unsung Hero


By Norman Allcorn
This story could have started with Aelsige, a Saxon who founded Alciston around 500 AD and some of whose ancestors, through time and corruption, came to be called Allcorn. Equally it could have started with Eustace who held 4 hides of William de Warrene at Bevendene as detailed in the Doomsday Book.
Instead let us start with Steyning Beard, the Squire of Rottingdean, who, in 1883 inherited 3,000 acres of Sussex Downland. Included were the 693 acres of the Bevendean estate. This he divided into several farms and small holdings, the largest of which were Upper Bevendean and Lower Bevendean. The last named was let, in 1908, to Frank Allcorn and he moved there with his wife Edith and son Norman Jack, known as Jack. The Squire died in 1909 and Frank could have bought Lower Bevendean. Instead it was sold to Brighton Corporation in 1911.
Then along came World War One, Frank was too old to serve and was in a reserved occupation. Jack was too young and was attending Coombe Road School. Frank continued to farm in the traditional way with a flock of pedigree Southdown sheep, some Shorthorn cows, milked by hand, and ploughing with Shire horses. Other factors, though, were affecting the farm. The town of Brighton was expanding fast with the building of the Moulsecoomb Estate, The Avenue, and houses around Jevington Drive. This took a large acreage away from the farm. Frank should have seen what was coming and looked for another farm, before his present one was swallowed up by the town. (Brighton did not become a city until 2001). Meanwhile Jack had married Violet Batchelor in 1929 and in 1932 they had a son Frederick Norman, known as Norman.
At the start of World War Two, Bevendean Avenue, or as it was sometimes called 'Happy Valley', had extended to within one field of the Farmyard. This was the cow meadow and was considered a possible landing ground for enemy gliders. Beach huts from the sea front were scattered about the field. This proved too much of a temptation for the locals and the huts gradually disappeared. My father made a chicken coop out of some of the timber. They were replaced by scaffold pole 'A' frames with steel wires slung between them. The Army used this field for practice. They fired anti-tank projectiles at a cut out model of a tank. That evening my father and I went out rabbiting. There was a large rabbit warren on the South West bank. After we collected our nets, we found our hands glowing in the dark. The glass projectiles must have contained phosphorus!
By May 1940 the country was in a desperate situation. Jack joined the L.D.V. (Local Defence Volunteers or as they were nicknamed, the Look Duck and Vanish Brigade. Churchill soon changed this to the Home Guard). He did sentry duty on Brighton Racecourse with some Canadian soldiers who were complaining about the cold. "Surely you are used to the cold," he asked them. "Yes but ours is a dry cold not this damp cold that gets right into your bones," he was told. Then he had to come home and milk the cows!
In August things got worse. We were facing a very real danger and Brighton beach was a prime target for landing enemy troops. Winston Churchill ordered the formation of the deliberately bland sounding 'Auxiliary Units'. These were to be guerrilla bands operating behind enemy line in the event of an invasion. They were to be well armed and have a disguised underground base from which they would emerge at night to harass the invaders from behind. The recruits for these units were mostly drawn from the Home Guard. These were farmers and their sons, gamekeepers and hunt servants and others who knew the local area and how to handle guns. They were asked to sign the Official Secrets Act and were in no doubt about the dangers. After an invasion their life expectancy was just two weeks!
Why do I think my father was one of these brave men and why did it take me over half my life to find out? He was exactly the type of man required. He brought home a sten gun in place of his usual rifle and blacked up his face for night manoeuvres. Years later we were talking as a family about the war and my mother stopped my father in mid-flow. "Remember the Official Secrets Act", she said. She was a 'stickler' for the rules. I never thought to ask him again, even after my mother died. The rules were relaxed in 1990 but my father died in 1988. Among his effects was a small shield shaped badge less than an inch high. It had 202 or 203 with a line through it. I had no idea what it was and threw it away. More years passed and I bought the book 'The Secret Sussex Army' by Stewart Angell. In there, on page 62, was a picture of a badge exactly the same. I had thrown away the only hard proof of my father's involvement.
I wrote to Mr. Angell who said he had located all of the Sussex Auxiliary Units and their bunkers but had no knowledge of my father. He did agree that his map on page 7 showed a gap to the East of Brighton, with the nearest units being Rodmell or Cooksbridge. He also said, and I quote, "Unfortunately due to the passage of time there are inevitable gaps. In some cases whole patrols have died out and with them their memories."
Just suppose for a moment that Jack's unit was at Lower Bevendean. Where would they have put their bunker? Maybe in the chalk pit about 200 yards south-east of the farmyard. Is a present day resident of Hornby Drive having a barbecue in his garden unaware that several feet underneath him are pounds of plastic explosive slowly decaying? Or maybe their hidey-hole was in the steep sided wood known as The Shaw. Perhaps some children playing there may one day find a concealed entrance to a passageway that leads to a cache of World War Two weapons?
Why would any unit not be at Upper Bevendean? The farmer's son here was Harold West and he was a wireless operator for another auxiliary unit. This was the Special Duties Section whose role was to stay at home and report, via radio, enemy troop movements, fuel dumps etc. Unlike the active groups some of these were women. For reasons of security neither of these groups knew of the existence of the other. The truth of the whole matter lies buried deep within the files of MI6. Will they release them after 100 years? Even so that will be too late for me. I shall be long gone before 2050. It is a pity that those other organizations like the Bletchley Girls and the S.O.E. should have their moment of glory but the brave men, and some women, of the Auxiliary Units remain unsung heroes.
The threat of invasion passed but trouble was not over for Lower Bevendean. In December 1940 there was a period of intense frost followed by heavy snowfall. When the thaw came the water from the melting snow could not penetrate the frozen earth. It flowed down the valley and flooded the farmyard. Normally water would drain freely through the chalky soil but now there was a foot in the farmhouse, two feet in the cow stall and three feet in the cart shed. It took 24 hours for two pumps from Brighton Fire Brigade to clear it. My father paid tribute to the toughness of his cows. After standing up to their bellies in icy water for several hours, milk production was back to normal within days.
This did not help the farm and now it had come to the attention of the War Agricultural Committee. (The War Ag.) The country needed food and the War Agricultural Committee did not think that Frank was producing enough. The sheep had long gone, victim of cheap New Zealand lamb. 60 geese were reared for Christmas, but they were not a necessity in war time. The West family, at Upper Bevendean, were milking cows by machine and had a caterpillar tractor pulling a 5 furrow plough. Frank, by comparison, was still milking by hand and using horses. He hired a tractor but by that time the War Agricultural Committee had lost patience and served him with a Compulsory Requisition Order to leave the farm in September 1942. So the unsung hero and his family were now out of a job and out of a home.
Next came an ironic twist of fate. This same War Agricultural Committee now offered my father the job as farm manager of another farm which had also been Compulsory Requisitioned. We left Bevendean on a grey overcast day in December 1942 and arrived, mid-afternoon, at Messens Farm, Ninfield, near Bexhill. The family were still in the house and the farmer was stomping around the farmyard with a shotgun under his arm. The arrival of the local bobby, on his bike, calmed things down and we moved in the front door while the others moved out of the back.
Jack soon got this farm up to scratch and after 12 months we moved to Priory Farm, Rushlake Green, Heathfield. Here we twice had a close shave with different doodlebugs but survived. My father stayed in this village for the rest of his life, first as farm manager and then in 'retirement' as gamekeeper. It could have all been so different!
Norman Allcorn, Findon
May 2021
1940s_War_Time_Stories_009
Editors Note: This is the type of badge Norman is referring to.
The badge was a commemorative lapel badge issued at the end of the auxiliary units operational years.
The top two-thirds has a red background with the lower part being blue.