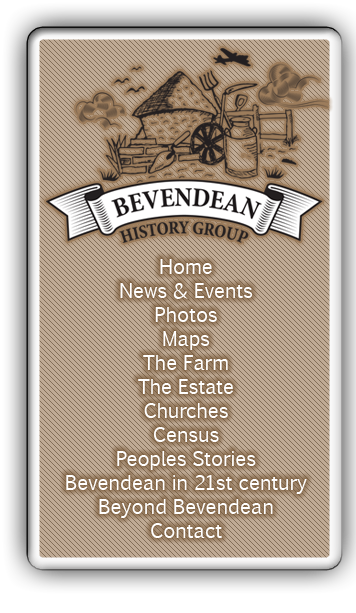 The Estate - Bevendean History Project

The Bevendean Estate before the 1945

The Manor of Bevendene was first mentioned in the Doomesday Book in 1086 when it was reported to be worth £6 and owned by William de Warrenne who had been given the land for service to William the Conqueror.
The land had been farmed from earlier times and this continued until the 1940's, when the farm was needed for new housing for the country's expanding population.

Transcription of Latin entry in the Doomsday Book
.
"Eustace holds one hide of William. A villein (tenant farmer) of Falmer held it. It vouches for one hide (an amount of land to support a household). It is worth 6 shillings. Walter holds Bevendene of William. Azor held it of the King. Then, and now, it vouched for 4 hides. There is one rod over and above which does not pay Geld (land tax) because it is outside the rape. There is land for 3 ploughs. In demesne (land attached to a manor and retained by the owner for their own use) are 2 ploughs, and 2 villeins and 3 borders with one plough. In Lewes 2 haws (a piece of enclosed land) of 18 pence. In the time of King Edward it was worth 100 shillings, and afterwards £4. Now £6. Villeins of Chemele held this land."
Between the Domesday entry and the present time there is further documented evidence of the farm and its owners or tenants. There is a reference to Bevynden Farm in the will of John Levitt, dated 22 October 1533 and a record in 1639 which showed Thomas Covert of Slaugham owned the farm.
A hundred years later, the farm was owned by Elizabeth Geere of South Heighton, guardian for Charles Geere her son. At this time Bevingdeane Farm was leased to John Wade of Alfriston. The rent was £130 per annum for a term of 13 years to commence Michaelmas 1735.
In 1757 according to a document dated, 8 August in the 25th year of the reign of our Sovereign George, the lease of Bevendean Farm was granted to John Beard. Eleven years later, an indenture dated 1 August 1768, showed the agreement for the purchase of The Farm between Rev George Newton Vicar of Isfield, his wife Elizabeth, and William Mirboll Esq. Bevendean Farm passed to Mrs Elizabeth Newton in 1792 following the death the previous year of her husband the Rev George Newton.
In 1811 the ownership of Bevendean Farm, was in the hands of William Courthorpe Mabbott. When in 1838 William Rogers Willard took over the tenancy of the farm, the Tithe map showed the farm covered an area of 693 acres.
By 1862 Bevendean Farm had yet another owner, a Mr Charles Beard and it remained with him until his death in 1876, when it passed to his daughter.
By 1883 Mr Steyning Beard had become the owner of Bevendean Farm. Steyning Beard was the village Squire of Rottingdean and owner of 3,000 acres. This land had been gradually acquired and enlarged by a long line of his forebears, who were Quakers. At this time The Bevendean Estate covered 676 acres and was valued at £16,575-17s.
The land was split between at least 12 different people, plus some small holdings and allotments.
Charles Steyning Beard in 1904.

In 1908 Frank J Allcorn took the tenancy of Lower Bevendean Farm when he moved from Chailey with his wife Edith and son Jack. Steyning Beard died on 13 December 1909.
The Brighton and Hove Herald on the 2nd August 1913 reported the purchase of Lower Bevendean Farm from the Estate of the late Steyning Beard for £6,200. The principal part of the land (246 acres, 2 roods, and 2 perches), including the homestead, was in the occupation of Mr F. J. Allcorn on a term expiring at Michaelmas, 1915, at an annual rent of £262. The remaining 33 acres were let as allotments to fourteen different tenants, at rentals amounting to £98 18s. 6d.

The buildings consisted of a farmhouse built from brick and flint with a slate roof, having a wing which could be adapted for a second residence. The farm buildings were also built from brick and flint with slate or tiled roofs. They comprised of a cowshed for twenty four cows, stabling for eight cart horses and a cart lodge. In addition there was a chaff shed, open hovels and yards; a large granary with loft over and a second cowshed for six cows. There were also five good cottages on the estate. The total annual rent was £356.18 shillings and sixpence; the tithe (unapportioned) was estimated at £18, and there was no land tax.


Mr F. J. Allcorn continued to farm the land until September 1942 when he was given notice to leave.
continued