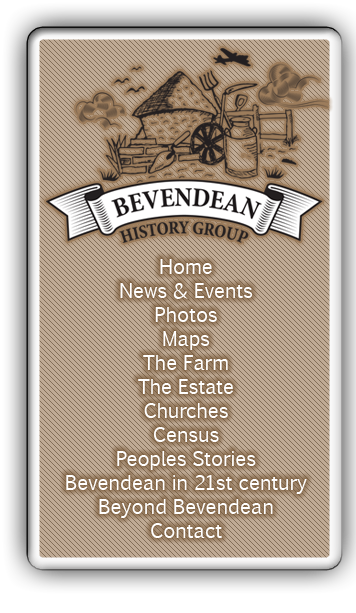 The Estate - Bevendean History Project


The Bevendean Estate before 1945 - Higher Bevendean


Higher Bevendean
Although this area has always been called Higher Bevendean, because it was built on land which was originally part of Bevendean Farm it is reached through Moulsecoomb.
30 acres of land from the Bevendean estate was put up for sale by auction by Messrs. Parson Son & Basley at their Property Sale Room at 147, North Street, Brighton, on Wednesday, December 10th, 1930 at three o'clock.
The land was described as adjoining Hillside, Moulescombe, Brighton, and was approached from, near to the main Lewes Road with Motor Bus Services and the Brighton Corporation Electric Tramways, Facilities for education were close at hand, there being an approach from the northern end of the Estate to the Moulescombe Schools.
The land was situated in the Parish of Bevendean, at a pleasant altitude with undulating surfaces. It presented no building difficulties, and was ripe for development suitable for the erection of houses of moderate size.
The site plan of the land for houses is coloured yellow and is suitable for the erection of 384 houses.
The land was not sold at the Auction but sold afterwards for £5,250, which equalled £175 per acre, or for the 384 houses the price was £13.13.6 per plot.
The roads in Higher Bevendean were mainly built in the 1930s by Braybon Builders with the approximate dates of building the houses listed below.
| | |
| --- | --- |
| Widdicomb Way | 1931 - 1933 |
| Bevendean Crescent | 1931 - 1932 |
| Medmerry Hill | 1931 - 1933 |
| Nyetimber Hill | 1931 - 1933 |
| Beech Grove | 1932 - 1933 |
| Birdham Road | 1935 - 1939 |
House Plans for Widdicombe Way
House Plans for Bevendean Crescent
Three more roads were added in the 1950s and 1960s again with the approximate dates of construction of the houses.
| | |
| --- | --- |
| Staplefield Drive | 1951 - 1955 |
| Selba Drive | 1958 - 1969 |
| Wheatfield Way | 1958 - 1969 |
Advert for houses for sale in Higher Bevendean in the Brighton & Hove Herald on 21 November 1931.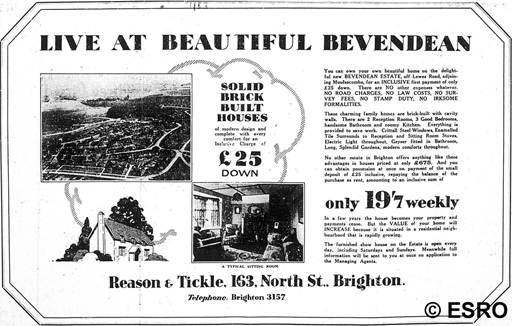 Text of the Newspaper Advert
LIVE AT BEAUTIFUL BEVENDEAN
SOLID BRICK BUILT HOUSES
Of modern design complete with every comfort for an inclusive charge of £25 DOWN
You can own your own beautiful home on the delightful new BEVENDEAN ESTATE, off Lewes. Road, adjoining Moulsecombe, for an INCLUSIVE first payment of only £25 down. There are NO other expenses whatever. NO ROAD CHARGES, NO LAW COSTS, NO SURVEY FEES, NO STAMP DUTY, NO IRKSOME FORMALITIES.
These charming family homes are brick-built with cavity walls. There are 2 Reception Rooms, 3 Good Bedrooms, handsome Bathroom and roomy Kitchen. Everything is provided to save work. Crittall Steel Windows, Enamelled Tile Surrounds to Reception and Sitting Room Stoves, Electric Light throughout, Geyser fitted in Bathroom, Long, Splendid Gardens, modern comforts throughout.
No other estate in Brighton offers anything like these advantages in houses priced at only £675. And you can obtain possession at once on payment of the small deposit of £25 inclusive, repaying the balance of the purchase as rent, amounting to an inclusive sum of only 19/7 weekly.
In a few years the house becomes your property and payments cease. But the VALUE of your home will INCREASE because it is situated in a residential neighbourhood that is rapidly growing.
The furnished show house on the Estate is open every day, including Saturdays and Sundays. Meanwhile full information will be sent to you at once on application to the Managing Agents.
Reason & Tickle, 163, North St., Brighton.
Telephone: Brighton 3157
.
More plans and photographs