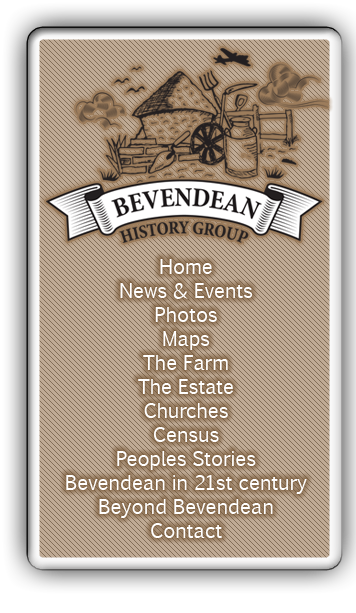 The Estate - Bevendean History Project


Bevendean Estate Temporary Houses continued

PREFAB IS STILL THERE
Children on a steep bank at Bevendean scattered when a five hundred weight concrete manhole cover careered about a hundred yard down the hill and into to a prefab house.
Fortunately, the tenants of the house 44 Heath-hill Avenue were out at the time. Mr R. O. Pollard was at work and his wife had taken the two children out shopping.
Their dog, Peggy, was in the house, though frightened was not hurt.
Workmen were wheeling the cover, which is 42 inches in diameter, into position when it got out of control and started moving down the slope towards the brow of the hill.
"We ran beside it" said Mr A.G. Hunt, the foreman, "and tried to push it on its side and into a ditch, but it just roiled on gathering speed."
The cover rolled over the brow of the hill, crashed through a thicket, bounded over a wire and then raced; diagonally with giant bounds down the hill. At the bottom it leaped another wire fence and hit the large front room window of the house with a resounding crash.
The window was demolished, and considerable damage was done to wall and contents of the room.
From the Brighton & Hove Herald 26 August 1950
This colour photograph shows the prefabs in the late 1950s with Plymouth Avenue on the hill behind. In the background is a farm track which went up to Warren Road and the top of Race Hill.
The prefabs were demolished between November 1959 and November 1961 to make way for a self build scheme of bungalows.
Photographs from Diane George mainly of the prefabs.
Photographs from
Brian Donaldson
mainly of Heath Hill Avenue and the prefabs.
In January 1947 the Council drew up plans to build 13 blocks of 3 storey flats on the south side of Heath Hill Avenue.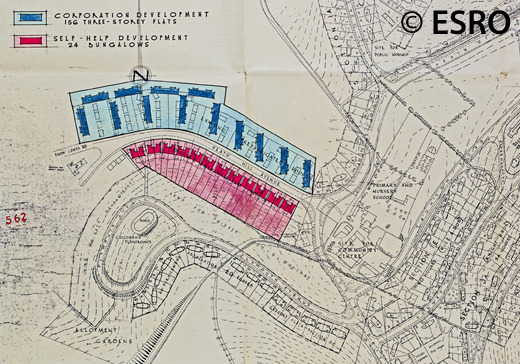 Plan showing the positions of the proposed flats in Heath Hill Avenue.


Artists sketch showing the blocks of flats proposed for the south side of Heath Hill Avenue.
These flats were never built and the land was made available for the
self-build bungalows
on the south side of Heath Hill Avenue.