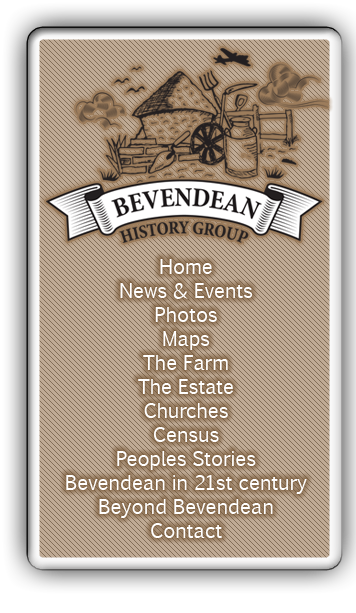 Bevendean History Project

Bevendean Farm

Lower Bevendean Farm about 1900 from Race Hill
Brief History
Bevendean was first mentioned in the Domesday Book of 1086.
In 1533 there is a reference to Bevynden Farm in a Will for John Levitt, dated 22 October.
In 1639 Thomas Covert of Slaugham owned the farm.

In 1735 the farm owner was Elizabeth Goose of South Heighton.
The Rev George Newton of Isfield in the County of Sussex and his wife Elizabeth purchased the property in 1868.
William Courthorpe Mabbett became the owner of Bevendean Farm in 1811 when the farm had an area of 693 acres.
In 1873 the farm was split between 7 different tenants and had a total area of about 691 acres with Upper Bevendean Farm having a sizable proportion of the land and some land going to Heath Hill Farm.
In 1909 the owner of Lower Bevendean Farm was Steyning Beard with the farm leased to Frank John Allcorn.
Brighton Corporation purchased the Lower Bevendean Farm in 1913, with an area of about 279 acres from the estate of Steyning Beard and the farm was leased to Mr F. J. Allcorn. By 1914 the area of Lower Bevendean Farm had decreased to 244 acres.
The location of the different farms is shown on the map below and links to further information can be found below the map.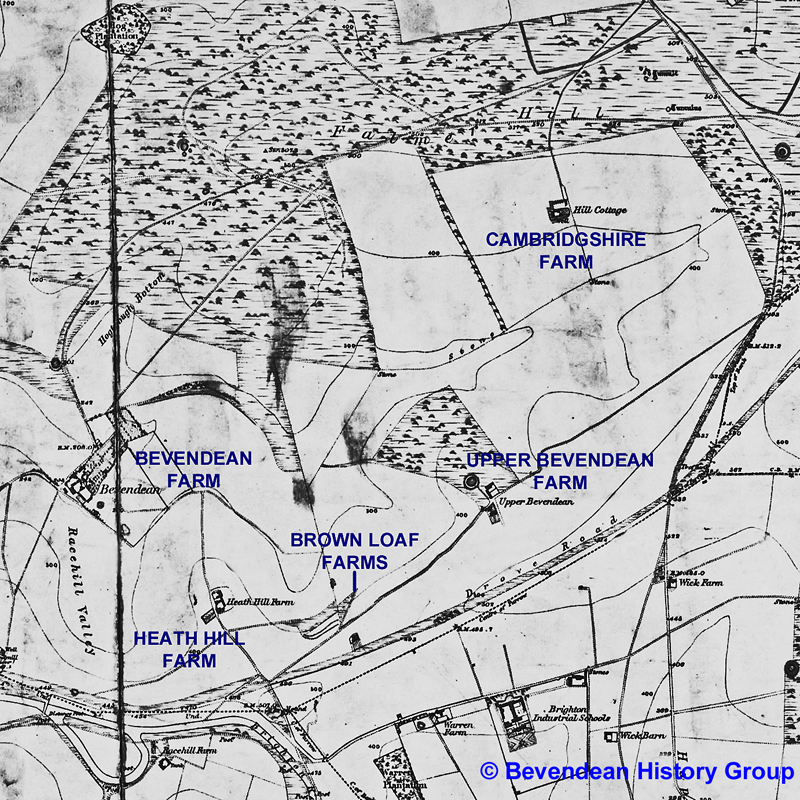 Juggs Lane the route to Bevendean
The track from Bear Road over the Downs via Lower Bevendean and Kingston to Lewes is known locally as Juggs Lane and is an ancient Drove way. It was named after the Brighton fishwives who transported their fish for the market in Lewes by donkey in baskets called Juggs. It was originally the only way to reach Bevendean Farm.
This track was used by the farmers of Bevendean to take their cattle and sheep to the market in Lewes or to go to Brighthelmstone.