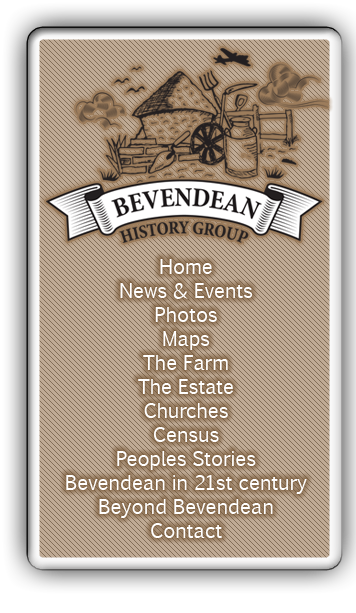 Bevendean History Project

Cambridgeshire Farm

Hill Cottage is first shown on a map of 1898, but must have existed before then as shown by the census entries below.
Cambridgeshire Farm appears on maps up to 1965-67, when it appears on a Land Utilisation Survey map for Brighton and Hove.
Cambridgeshire Farm originally consisted of a farm house, barn and cattle yard with about 4 fields. If from Upper Bevendean you walked in a N.E. direction towards the Falmer road you would come to Hill Cottage somewhere along the diagonal, this was where Cambridgeshire Farm was situated.
Census Entries
The 1881 census lists a building "On the Hill", with Stephen Bishop an Agricultural Labourer, his wife Ellen and 8 children, this is probably Hill Cottage.
Hill Cottage is listed on the 1891 census with Alfred Browning a farm labourer and his wife Louisa plus 6 children and a grand-daughter living there. The oldest son is listed as a shepherd boy and the next oldest is listed as an ox-boy.
Hill Cottage is listed on the 1901 census but it is empty.
1911 census refers to Hill Cottage, Cambridgeshire Farm. Robert Berry lived there with his wife Francis a son aged 12 and a daughter aged 11. Robert is listed as a shepherd on the farm.
Information on John Munro who lived at Cambridgeshire Farm from his son Michael
My dad John Munro was born late in 1933 to Joseph and Kate Munro in Brighton. His father Joseph died in 1936 and his mother Kate died in late 1939. He then moved to Balsdean to live with an Aunt and Uncle, Jack and May Nicholls.
When the army used Balsdean for training it became too dangerous to continue to live there.
They then moved to Cambridgeshire Farm in 1942 with Uncle Jack working for Harold West.
John's Auntie May died in 1951, which left John living with Uncle Jack until he moved away in 1955.
John is now 83 and for the past year he has been living in Northern Ireland.
From Michael Munro August 2017.
Cambridgeshire Farm aka Hill Cottage
Cambridgeshire Farm consisted of a little flint-built cement-rendered cottage which in 1899 was called Hill Cottage. It had two rooms downstairs with plain match-boarded and plastered walls. John Munro with his uncle and aunt used one of the rooms as a bedroom lying on bran pokes or sacks on the brick floor. John had an old coat and a blanket laid over him to keep him warm and his aunt and uncle lay alongside. Their other room had a bare concrete floor and a copper to which a tap was added later but was never used, Aunt May preferring the two troughs outside in the yard for all their washing. Cooking was done on a range fuelled among other things by cabbage stalks and gorse. Often Jack would chop up firewood on the brick floor. The two first floor rooms were only used for storage. An outside toilet consisting of a bucket and seat served the family well! John remembers the cottage was always very cold, the winter of 1947 being the worst in living memory when he searched for clean ice to melt for a cup of tea.
After moving to Cambridgeshire Farm in 1942 John attended the village school in Falmer. He was happy at school and enjoyed being taught by Miss Pasco and Miss Francis.
During the war the cottage was protected by blackout blinds but the window frames were so rotten there were few places to fix them. Foxes and owls were his constant companions during the day and night. In 1945 John was sent to the Lewes County Modern School and travelled by bus and later by train which meant more walking. He finally left school in 1948 and started work on Harold West's farm in January 1949. He lived at Cambridgeshire Farm until 1955.
Information from the book 'The Hunns Mere Way – The Untold Story of Woodingdean' with permission from the author Peter Mercer.
The full story about John Munro can be found on pages 132 to 136 of Peter Mercer's book under the heading 'The boy who walked and walked.'
In 1942 an application was made to the War Agricultural Committee for a water supply to be laid at Cambridgeshire Farm to supply water to two animal troughs. This involved the laying of 500 yards of steel piping and two galvanised steel water troughs plus assorted T and elbow joints. The materials to be delivered to Falmer Railway station.
A plan showing the position of the pipe related to Cambridgeshire Farm is shown below. The route of the pipe is shown in red.
The work of laying the water pipe was completed in April 1943. The total cost of the scheme was £94.11.10 with a grant of 50% being received from the Ministry, but the grant was not received until the summer of 1948.