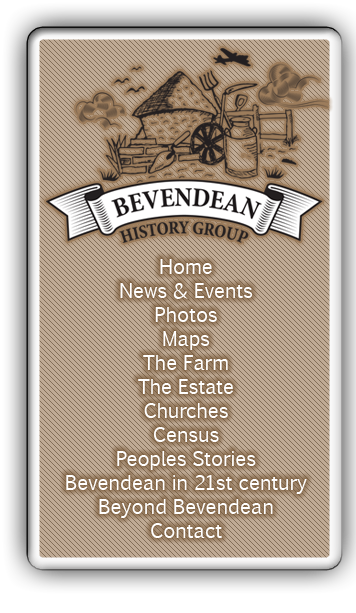 Bevendean History Project

Upper Bevendean Farm

The 1838 tithe map showed Bevendean Farm as a farm of 693 acres, but there was no sign of Upper Bevendean Farm or any other farms in the area.
An 1873 map shows Bevendean Farm (Lower), Upper Bevendean Farm with farmhouse, garden and buildings in a yard, the map also shows Hill Cottage with house, buildings and yard. This suggests that the farmhouse at Upper Bevendean was built between 1838 and 1873, possibly about 1860, which fits with a description that it is a Victorian building.



Upper Bevendean Farm unknown date

By 1898 the farms shown on a map of the area include Bevendean Farm, Upper Bevendean Farm, Heath Hill Farm and Hill Cottage, later called Cambridgeshire farm.

The 1891 census placed Albert West and his wife on Upper Norton farm with Albert's father Thomas and mother Sarah. At the outbreak of the last war, during the occupation of the South Downs by the military all the Buildings at Balsdean and Norton Farms were destroyed.

In 1901 the farmer at Upper Bevendean Farm was Albert West aged 36 years with his wife Ellen, two sons and three daughters.

In 1911 the census lists Albert West aged 45, farmer, his wife Ellen aged 45, a son Frederick working on the farm plus two more sons and three daughters at school. The household also contained a female servant living in a house with 8 rooms. The youngest son Harold eventually took over the farm.
In another house with three rooms lived James Sullivan aged 48, Cowman on the farm, his wife Kate and a lodger Charles Vigars aged 60 a widower also a Cowman on the farm.

Albert West bought Upper Bevendean Farm in 1913 from the estate of the late Steyning Beard, Squire of Rottingdean.

On 29 Jan 1940 Harold West, by then the owner of Upper Bevendean Farm, sold the farm to Brighton Corporation. Brighton Corporation then leased the farm back to Harold West. The Council bought up land all round Brighton to protect its water supply. The council claimed they never had to purify the water because it filtered through the chalk.

Colin West took over the farm before retiring about 1995. His son Stuart now runs the farm.

See Colin and Margaret West's Memories of Upper Bevendean Farm in people's stories.