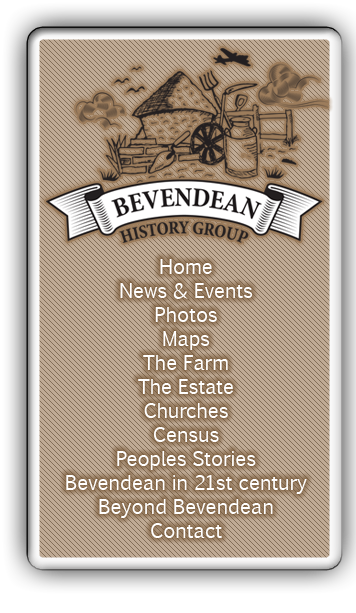 Bevendean History Project


New
s and Events








NEW


Some Plans for Churches outside North East Brighton.
Most of these church have been closed and some demolished with nothing visible today.




UPDATE


Falmer Village Church of England School. Robert Staten's maternal great grandmother Rhoda Dubbin was the Falmer village school mistress in the early 1900s. A photograph of her has been added to this page.




















The ARP Shelter at Downs Junior School in Ditchling Road has been refurbished and is open to visitors on some weekends during the year.

More Peoples Stories from World War 2.


Air Raid Precautions in Bevendean & Moulsecombe in World War 2.

Building St Andrews Church and Hall, plans and photographs from 1922 to 1958.

Falmer and Stanmer Roll of Honour for World War 2 found in the organ loft at Falmer in 2018.
Revised Layout
The

Recipes

can be found in the Farm section and the

Original Press Release

is now at the bottom of the news page.
The section

Bevendean in the 21st century

will contain information on Bevendean from the year 2000.
Beyond Bevendean

now contains information on the Parish of Falmer since Bevendean was in the Parish of Falmer until 1931.

The Bevendean History Booklet was published in 2014
A copy of the booklet is available for a small donation from the LECCA Cafe in Leybourne Road, Lower Bevendean.
http://leccacafe.co.uk
Alternatively you can use the contact form on the website.


Press release:
Action for Bevendean Community - ABC, wins £10,000 Heritage Lottery Fund support for local History Project!