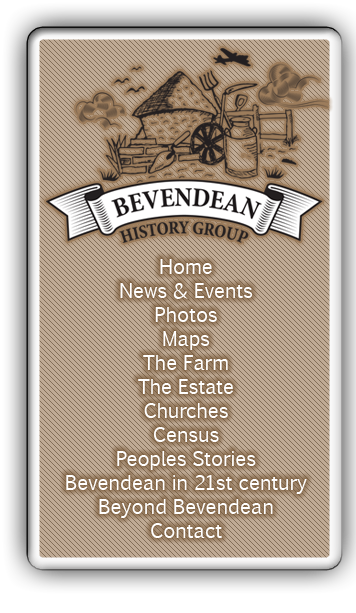 Peoples Stories - Bevendean History Project

Violet Bradford Memories of Lower Bevendean


It was a new council property. [...] Homes built for men coming back from the war. Which was most of the estates now weren't they? And that's how we came by it. We had to wait a year or two. [...] He was at the El Alamein push, he was on the signals keeping the cables clear for the messages to get through to the top. [...] It was difficult because there was so many coming home, you know, that needed houses. As I say, we had to wait a while but it was worth it in the end.
Mud. [...] No pavement, all we had was the road and the banks were just mud. The garden had a big wall along the back here and the garden came straight down to the wall from the field. No back garden, we dug all that out, my husband and I. [...] Just finished, the builders were using our facilities, the water and that and going up the road. [...] It looked like heaven without the mud [laughs] after where we lived. [...] I had three children by the time we got it. One five, one two and an eight month old. [...] My mother in law came up with me, but she didn't often come out here. She said it was too quiet, it hurt her ears [laughs]. So she didn't like coming out here, but we were both happy.
Oh they were indoors. They had a baby bath and they used to slide down the stairs in it [laughs]. That was the main attraction. And my son, I've lost him once or twice and we had the window open to dry the place out a bit and he got out of the window. I kept saying 'Has anybody seen a little boy in a mustard coloured suit?' So they said, 'Yeah, he's down by the...'. You know where the shops are now? They were building those and he was down there playing with the sand in the street. We had no fear then. And we used to walk over to the back of Falmer to what they called the 'Three Gate Woods'. There's a dew pond over there somewhere too. The boy and his friend over the road, he used to go camping there at night. They had no fears at all. They used to take primers and a tent and sausages, beans and tea and drink lemonade. And we were quite happy for them to go over there. We never thought about anything. [...] They were about nine or ten. They used to cycle to Barcombe Mills too. I never thought anything of it. They were going cycling, they were good enough. Never worried about it until they got home.
You'd hear the old cuckoos from up at the stables there. [...] There's still a stables there but it's not as big as it used to be and I think they used to roost over there. They seemed to come from there anyway. [...] We've had rats. In fact they think they were the cause of the wall falling. They go down because they can burrow through the chalk. [...] All sorts of birds; magpies, seagulls, pigeons. And badgers used to come, we had a badger once, it sat looking through there [patio doors], wondering whether he could get through or not. My husband ran upstairs to get a camera but of course he moved when he moved.
[Farmer West] He was a lovely old farmer. He lived down by the school. The farmhouse was still there and two little cottages and the woman was very friendly, I was very friendly with. She lived in [...] one of the cottages and then she moved into the farmhouse because the council took over the rest of it. I think it was the church there or Sunday meeting place, something like that. He used to sit on the wall between the school and his house and watch the kids playing. [...] His son took this farm on up here. I don't know whether he still has it because it's only on rent from the council, you know, and then he went to Balmer. That's just between Lewes and Falmer.
Birds singing, cows mooing and the old bull stamping. [...] I don't think he actually breeds there now. I'm not sure, but I haven't heard him for years. It's a funny sound, he's snorting and stamping his feet.
There was a fish mongers. A, like a little old centre shopping, food and that. And then there was a little, on the corner where Lecca is now was a little drapers place. Then I think it was the greengrocers, then it was a chemist and then it was the newsagents. The drapers, we used to take our shoes in there for repairs, but they used to be done down the Happy Valley shops. [...] We used to call them Schowey, Schofields was the newsagent. Sharps was the chemist. I can't think of the name of the greengrocer funnily enough. Then it was Haws. Oh and then the draper was Croucher and the food shop was Haws. Then there was a butchers which was, I can't remember his name, we had three or four there. [...] And then Skinners, wet or dried fish. Fish and chip shop. [...] We used to have one man came for the pig swill every week. Instead of putting our food stuff in the dustbin like we do now, he used to come and collect it all, which was a big asset. We wouldn't have our food stuff hanging about for a long time.
The first doctor we had was Dr Mary Roberts and where those big flats are, where the pub was, the first house there, number one Leybourne Road, that was her surgery for years. And she had The Willow built. Dr Roberts, really nice she was. A spade was a spade with her. I've been in the surgery when she'd have a go at The County [laughs]. Oh yes, she was lovely though. She had a little scottish dog and she used to walk everywhere. She had no car, no bike, just this little Angus her scotty dog. She used to walk all round.
One-hundred and ten and one-hundred and eleven. [My daughter] used to say one-one-one and one-one-o. [...] One-hundred and eleven went Hornby and a-hundred and ten went Norwich didn't it?
Mrs Violet Bradford was one of the first residents of Bodiam Avenue and she still lives in the same house.
28 August 2013