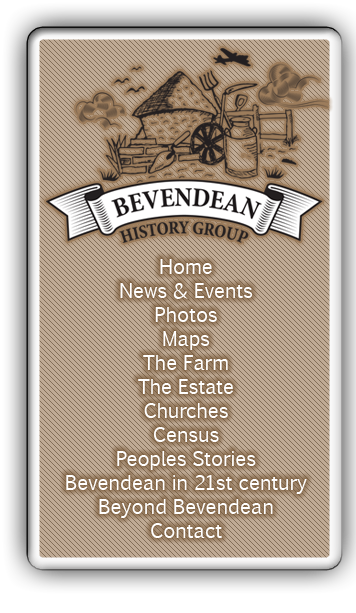 Peoples Stories - Bevendean History Project

Marjorie Phillips memories of Bevendean

We moved to Plymouth Avenue in May 1954. Our new home, part of an individual self build scheme, was two years old and the man who built it was moving to Canada.
My father often talked of the old farm road between Brighton and Lewes because it had always been his gateway to the downs, and it was exciting to know that we were going to live next to it. Of the stories Dad told me about his younger days the one that still stands out in my mind was about a bull. Dad used to jump the fence just behind our bungalow and cross the open field so as to avoid walking the drove road past the farm buildings, as he wasn't the farmer's most favourite person. One day he was just over the fence when a bull started to move towards him. He said he had never run so fast, even overtaking his dog but he escaped ending up where Hazel Grove is now, safely on the other side of the fence from the bull which had followed him all the way.
We often walked on the downs and Dad taught me names of flowers, birds and butterflies. We picked blackberries from the bushes behind Manton Road, walked to what is now Castle Hill nature reserve to hunt for mushrooms, and picked wild raspberries, to make jam, in uncultivated land near the Falmer Road.
In the Autumn of 1954 I started at Bevendean Junior School and was put in Miss Monday's Class 1b and was in the Norman team. I could read fluently and was allowed to read silently when I did not have to hear other children read. We made a knitted coat hanger cover in this year, mine was green and yellow stripes and again I had to help others because I could knit. Dad always sorted out my muddles because he said it was like making a fishing net.
In the second year I moved to Mr Elphick's Class 2a and we learned joined up writing. We were allowed to write in ink once we could join the letters correctly and I was made the ink well monitor. When my children went to Bevendean School they both had Mr Elphick as their teacher so he must have been there a long time.
In Year 3a Mr. Avis was my teacher and I was scared of him. We had a student in this class and she read to us from 'The Hobbit', a book I had to have for myself. The Christmas play that year was about King Midas and the Pot of Gold, one of the legends we had been learning about. The classes at Bevendean were large, 51 children in this class, a fact I later learned when I went for an interview for my first teaching post where Mr Avis was the Head Teacher. He always introduced me as the 51st child of his Year 3 class in 1956/57.
School dinner times were long and I went to my Aunt for lunch. I also went to her after school until collected by another of my father's sisters. By the fourth year I was allowed to go to my own home, letting myself in using the key strung around my neck, and during the winter I lit the open fire so the bungalow started to get warm as early as possible. Sometimes I was invited to a friend's house to play but could never have anyone to play with me because I was on my own until Dad and his sisters got home from work
Year 4a was Miss Gunn's class and the year of the dreaded 11+, which I failed. I was asked to be Mr. Webb's (the Headmaster's) monitor. Every break time I had to go to the staffroom and collect his drink and biscuit and take them to him. At the end of break I collected the empty cup and returned it to the staffroom. I was very pleased with my little job.
At the end of this year in primary school I won the 'Miss Potter' prize for Kindness, Courtesy and Consideration. I was very upset about my prize because it was a dictionary – until then the book had always been a book with lots of pictures. It still upsets me to think about this today but I still have the dictionary and used it throughout my years of teaching.
Before I was born my father's family lived in Nesbitt Road except for his eldest sister who was married and lived in Manton Road. The rest of the family visited her often and on one visit while crossing the hill from Nesbitt Road to Manton Road they watched as bombs dropped behind them. At the time my aunt was in the bomb shelter in her neighbour's garden.
I remember some things about the area when we first moved to Bevendean.
The shops at the top of The Avenue were a green grocer, a grocer, a newsagent, a hardware store and a fish and chip shop, later there was a hairdressers and an off licence.
Behind the school playing field there was a newsagent and post office, a grocers, a green grocers, Sharps the Chemist and a butchers.
On the opposite corner to the shops was the White Admiral Public House.
Doctor Roberts held her surgeries at a house in Leybourne Road.
There was a small church in a barn.
So Bevendean was like a village of new houses with shops, a post office, a church, a pub, a school, a doctors, an old farmhouse and plenty of room to play.
30th April 2014