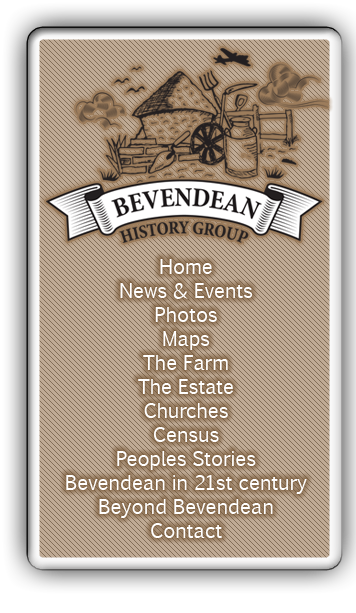 Peoples Stories - Bevendean History Project

Colin and Margaret West's Memories of Upper Bevendean Farm.

A map of 1876 shows the total area farmed to be 693 acres, the same as on the Tithe map of 1838. A later map of 1898 shows Lower Bevendean Farm, Upper Bevendean Farm, Heath Hill Farm and Hill Cottage, but Cambridgeshire Farm is missing.
Colin: Cambridge Farm was a farm house, barn and cattle yard with about 4 fields. It was always part of Upper Bevendean Farm as far as I was concerned, it was never run as a separate farm. If from Upper Bevendean you go in a N.E. direction towards the Falmer road somewhere along the diagonal you would come to Hill Cottage which would be where Cambridgeshire Farm was. I remember buildings at Heath Hill Farm they were joined together, but I do not remember a house.
When my grandfather bought what was Bevendean it wasn't a very big farm. He sublet Brown Loaf and 2 other small farms to three brothers surnamed named Edwards, they have all gone now. These farms have now all been absorbed into Upper Bevendean Farm; these were where there are now livery and racing stables. I can remember the farm was split up into at least 4, adding the Brown Loaf part of it would make 7 farms.
I'm surprised you haven't been able to find out more about when Upper Bevendean farm was built. My grandfather moved there in 1901, to the best of my knowledge and my father was born there in 1902. They came from Norton Top near Balsdean. I'm sure the farm was not brand new then, I never heard anyone say they moved into a brand new house but I'd like to know how old it was when they moved in. We always thought that the farm house was Victorian, about 1860 something.
Upper Bevendean farmhouse with 2 children Colin and Margaret could not identify. Date not known.
My grandfather bought the small portion of what we know as Bevendean now, which is about a 600 acre farm, it was 1000 acres before the housing estate was built there and I think that when my grandfather bought it, it was probably about 3 or 400 acres.
The road to Upper Bevendean Farm came in somewhere near the Woodingdean reservoir. We do not use the original road much now, but then it was the only road into the farm for vehicles. There was a farm track, not a foot path from Upper Bevendean Farm to the Falmer road. And although I have used it we don't use it now. The new road was made after the war.
I think what had happened, was the war was coming and my grandfather had 3 boys. He couldn't set all 3 up individually, so he sold the farm and was clever enough to rent it back. That is how I got it and that is how Stewart got it, and his son will be allowed to take it on. After that it's anybody's I suppose.
I still dream about farming, the 2 boys took over about 20 years ago. I didn't move away from the farmhouse until we moved here about 5 years ago and we had streetlamps for the first time in my life. Only one son is farming, the other one works in Brighton he prefers computers.
The chap who painted Upper Bevendean farm was on a self-build scheme, but in Woodingdean. The painting shows one aspect of the farm, there is some artistic licence in the foreground but the buildings are accurate enough. Painted in 1992 by K. Simmons.
The house has not been altered apart from putting in an outside toilet and shower where the back porch was. The farm house has sash windows; it's old enough to be interesting, but not old enough to be really interesting. It has four rooms on the ground floor and four rooms above with a corridor going right through the middle. It's been altered a little bit now but that's basically what it was.
There used to be a long larder which I divided in two and had part as an office. There were hooks for hanging up the hares and game birds and a drain by the window. I don't know what it was used it for, and there were marble slabs in there and iron bars on the outside.
According to my father there was a spell when once a month the church service was held in the farmhouse at Upper Bevendean, nearly all my family were christened and married at Falmer church.
Margaret said; I lived in the farmhouse at Upper Bevendean Farm for 52 years, before we moved to where we are now. Colin lived there longer. I lived in Woodingdean before we got married. My parents had a grocer's shop which has been knocked down now it was next to the post office on Falmer Road. I've lived at Upper Bevendean farm longer than Stewart. He was born there and has lived there a long time.
Lower Bevendean Farm was where the school is now. That was quite a place at one time I would have loved to see it in its heyday. It was a good house it had servant quarters it had a great big walled garden with an orchard it must have been quite a place but when I have no idea my grandparents moved down there. The front of the house was much more imposing than the back, at Lower Bevendean. The garden would have been quite good for the cricket and tennis, but I don't know how they got round the yew trees although it was fairly flat there.
When we took it over, the farm fields started where the dual carriage way of The Avenue stopped, where the shops are now. I remember that being a meadow before the houses were built. This is at the end of the houses before the prefabs. Some of the prefabs had Anderson shelters as garden sheds. My grandfather at Lower Bevendean had a Morrison shelter in the kitchen.
Norman Alcorn told us that bathing machines were put in the fields to stop gliders landing.
Colin: I don't remember them but there used to be steel cables over the farm to stop planes landing, I know where some of them are buried, they were thick cables.
We were farming the land at Lower Bevendean farm until they started building houses and the school. When they got going they put the houses up very quickly. They laid all the roads first. I thoroughly enjoyed myself. I used to have an old Jeep, bought after the war. I used to go down there, I didn't have a licence I was only about 10 years old and had a concrete road to drive on. There was no other traffic on the road. The school was built on the orchard right next to the old farmhouse, which was just over the fence, the fence is still there. My grandparents and my aunt lived in the farmhouse, and there was another cottage, one of the farm workers lived in that. The house was still being used after the school was built. Near the house was the old cow stall which was made into the church.
The Bishop of Lewes was going to come out to Lower Bevendean farm and do a harvest festival service and brings some animals along. As it turned out he didn't come just blessed us from somewhere in Brighton. He didn't bother to come out to the farm but my youngest brother and a cousin were each carrying a lamb, one was black and one was white and some idiot asked what the names of the lambs were I can't remember what the white lamb's name was, but the black one had the devil's name, Satan. The vicar thought Satan turning up at the festival would be amusing but it didn't happen in the end.
continued