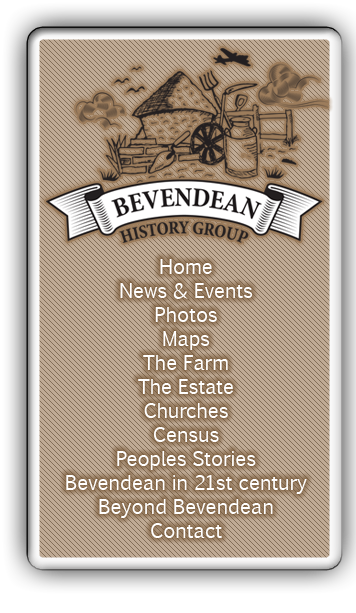 Peoples Stories - Bevendean History Project

Esme White remembers Bevendean part 1

I was born in Clyde Road Brighton near Preston Circus and we moved to Higher Bevendean when I was 3. I lived in Higher Bevendean for nearly 20 years until I got married in 1955 when I moved to Plymouth Avenue in Lower Bevendean. My father-in-law built the bungalow but we paid for it ourselves, however it was good because a lot of our contemporaries had to stay with their parents, we were lucky we had somewhere to move into straight away.
When I was very young before the war we used to go over the Downs to what we referred to as the Beech Wood which was above Heath Hill Avenue opposite the school. We used to have picnics there and in the winter we used to slide down the hill. There was a big rabbit warren behind the bungalows in Heath Hill Avenue. One day during the war 2 or 3 children from Bevendean Crescent were playing there and a bomb exploded, I think it was an incendiary bomb, one boy was killed and his sister's legs were very badly injured I can't remember what happened to the third person. Nobody knew it was there we just used to go and play there during the war. At that time Upper and Lower Bevendean Avenues were the end of the houses. Then there was the farm gate and there were cows in the valley going up to the farm. I don't remember them going up the hill I just remember the cows in the middle bit. But then, I think it was 1944, a friend said to me that Italian prisoners of war built the prefabs because Italy had surrendered and I think they were waiting to be repatriated. I remember the farmhouse being there but of course we didn't go into the farm yard. I just remember it was there and the farmer's name was Mr. West. That's my earliest memory from just a bit before and during the war.
I first moved to Lower Bevendean in 1955. Most of the estate was built then and ours was one of the last bungalows, I think somebody else had the plot first but turned it down so we were lucky to get it.
Bob designed the bungalow but we had it drawn by a draughtsman. Bob dug out all the footings to start with, and then my father-in-law and his workmen built it for us, which was very nice. When it was finished we did all the decorating.
I went to Moulsecoomb School, because when I went to school Bevendean School wasn't there. My daughter Jacqueline went to Bevendean School, she started a bit earlier than she should have done because my husband broke his leg. I went to see Miss Cross the infant head teacher and said I had problems and could Jacqueline start school early and she started there before she was 4. Miss Mary Falk was her first teacher; I think it was a lovely school, and I thought Miss Cross and Mr Webb were ideal. Jacqueline got on well there, she enjoyed going to all the things and also she went to dancing classes with Rosemary Carden which were originally in the Barn Church Hall. I think the church had been moved by then. Jacqueline was baptised on 1st
April 1962, in the old Barn Church it was a lovely little church.
Most of Jaqueline's friends lived along here, Malcolm Rollings, Michael Flood and one or two others who were connected with the church. We were always in and out of each other's houses in those days. Jacqueline was at the school for a long time because the year she was 11 they bumped the age up for going to secondary school so not only did she start early she ended late. She ended up being the pupil who had been at the school the longest. I think all the teachers at Bevendean were very good and there was a very nice atmosphere at the school. She was over 12 when she eventually left Bevendean and she went to Falmer, the year that Westlain and Stanmer secondary school were merged to become Falmer School.
Bob my husband, and my daughter Jackie make up my family. Bob started off working for British Rail because he trained to be a draughtsman. He went into the air force for his national service and when he came back there was no position for him with British Rail because a lot of men had returned from the war and needed work. He went to work for British Gas where he was in the accounts office for a long time until he transferred to the showrooms concentrating mostly on central heating before he took early retirement. Originally he lived further along Plymouth Avenue because his father was the foreman on the site for the self-build scheme, the ex-servicemen's houses which were the first scheme of its kind.
There were 20 men in the association and they were the first self-build association in the country. 18 of them worked all their spare time on the houses and my father-in-law and Bill Lemon were the only men working on the buildings. I think they started in 1949 and it took them 2 or 3 years. I don't think they bought the houses out right, I think they had a mortgage from the Corporation and paid rent and they were all tradesmen except Mr Spalding and he did all the accounts. I think eventually they nearly all bought their own houses. They worked very hard to get it all done. I suppose they finished about 1950 or 1951 and they built 20 houses there. There's a plaque on the wall but you can't read it very well now, the plaque was done up once but it's very difficult to read again. Now there is only 1 of the original families left, Mr and Mrs Kirkham.
The work I did was all clerical work. When I left school I started with Brighton Corporation in the Borough surveyor's Department which was originally in a temporary building on the seafront it had been an old hotel. When I left 14 years later the department was still in the temporary building as the new town hall still hadn't been built. Then I was at home when Jacqueline was born until she was 9.Then I went to work part-time for Harman plant hire at the end of the estate and I was there for a fairly long time, in fact for 28 years until I retired. I dealt with all sorts of things, wages, accounts, computers, shorthand typing, just general office work.
Jackie started off in insurance. She did well in her exams but when it got to that point jobs were hard to get. She worked at General Accident Insurance and then she went to Prudential. She got married fairly young and had 2 daughters and then she took the Open University Bachelor of Science and amended it to a Masters in Geology and then she went to work for Southern Water at Falmer. When they transferred a lot of their staff to Durrington she went with them.
Bob did most of the gardening, he knew all about gardening and was a very good gardener, I was the sort of gofer I did the weeding. At one time he used to do a lot; we had a greenhouse and grew a lot of tomatoes and things like that. Once his back gave up there were many things he could not do but he still tried to do a bit. We didn't grow many vegetables we didn't like vegetables it was mostly flowers and quite a lot of fruit, strawberries, raspberries and gooseberries when the birds let us have them.
Things have changed with the wildlife over the years. Bob and I were saying the other day that the birds seem to have changed an awful lot. There used to be lots of starlings but I haven't seen a starling here for years now. We always used to hear cuckoos in the spring but I haven't heard a cuckoos or skylarks recently although we have an awful lot of seagulls. At one time the farmer cultivated up on the hill and grew corn and rape seed. I think that sometimes there were sheep at the top. But I can't really remember anything else. We have had foxes and badgers in the garden but we haven't seen them for a while now. We used to see hedgehogs but we haven't seen those for a while whether they've died out or what I don't know. Of course originally Dartmouth and Fitch Drive were all wild and sometimes a tractor would go up the hill.
When I first lived in Bevendean I was working full-time and I did most of my shopping in the town in my lunch hour. After Jacqueline was born there was the Co-op mobile, my mother-in-law who lived along the road not Plymouth Avenue used it regularly every week. I started using it for a while but then it stopped. In those days we would go down to the shops in what was called Happy Valley the shops at the top of the Avenue which have all gone now. There was a nice little grocers run by a mother and daughter and a hardware shop run by Mr Wells. He was a very helpful man if you wanted something he hadn't got, he would go and get it and bring it to you that afternoon, it was incredible the service we got. I can remember way back when I was very young there was a fish shop there. Mr Collins used to come up to Higher Bevendean on Friday and deliver fish. There was also a greengrocer and fruiterer and a haberdashery shop. We didn't go to the Lower Bevendean shops near the school until later on. The post office we certainly used and we sometimes went into the grocers but we didn't use the butchers there. When I was pushing a pram I used to go to the butchers at the bottom of the Avenue, Goldsmiths. There was also a bakers shop there, Towner's. Of course nobody had freezers in those days so you got your bread every other day or every day, even if the weather was bad you had to go out and shop.
I remember some very bad winters. I think 1962/63 was very bad, I couldn't get the pram out I think we had snow for about 6 weeks. The paperboy was very good he managed to deliver papers even though we had snow up to the window sills that was a great comfort, it was a very bad winter. But we had quite a number of bad winters.
continued