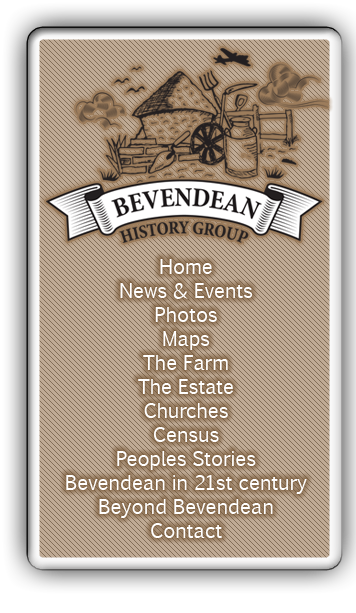 Peoples Stories - Bevendean History Project

Memories of Higher and Lower Bevendean by Ivy Diffin

I was born on 17 November 1930 at 91 Round Hill Crescent (off the Lewes Road) Brighton to James and Winifred Croucher. I was the first child and grandchild for both parents' families. When I was 2 years old we moved to 59 Bevendean Crescent a new estate where the houses were on sale for approximately £500 and required a deposit of £25. Dad's younger brother and wife purchased number 61. That was the beginning of very many happy years, 21 for me in fact, until I left to get married, in St Andrew's Church Moulsecoomb, although I and my husband remained in the area for many years.
Dad worked at an electrical switchgear factory in Lewes Road, opposite the barracks. Mum would often take me to visit my grandmother and the family, who still lived in Aberdeen road. I always wanted to stop at Natal Road, peer through the window and give dad little wave, where I could see him working at his bench, in the tool room. Over the years the firm expanded and dad transferred to East Moulsecoomb, where he was a toolset, responsible for setting machines for the women employees. When war broke out he was exempt from going into the forces, although he had to join the home guard, which meant he was often away from home at night.
It was a lovely happy home blessed with two more daughters Patricia was born in 1937 followed by Jeanette in 1939 and for years we were known as the "3 Graces". The house had a living room, front room and small kitchen, which led out to a long back garden. Upstairs were two fair sized and one small bedroom and a bathroom. Dad loved to be outside and was always gardening. He rented two allotments close by, on the hillside overlooking the Avenue, where there was a constant supply of fresh vegetables and rhubarb for our table. I loved to go there and pick the peas in the pod, which I much preferred to eat raw than cooked. He kept chickens and rabbits in the back garden, as did other neighbours, although it was always dad everyone called on to kill and prepare them for the table. We were always used to fresh newly laid eggs, and one evening, a neighbour called to ask if he could buy some eggs for his very sick husky dog. Of course dad was only too willing to help.
Mum didn't work whilst we were young; she was always busy at home. Preparing the Christmas cake and puddings was a get-together time. The night before we sat round the table, picking the stalks off the currents and measuring the ingredients. The next day I would arrive home from school for midday lunch, and a pudding or maybe 2 would be steaming away in the kitchen walls running with water, even though the windows wide open. There was no central heating, so small one bar electric fire stood on the landing, but it barely took the chill of the bedrooms and although each downstairs room had a coal fire grate the house was far from being kept warm. In the winter we would get up in the morning to see very pretty patterned ice windowpanes and of course hot water didn't come through the taps it meant boiling kettles constantly!
Friday night was bath night and it included a hair wash. There was a big gas geezer over the bath, certainly no luxury of constant hot water. I well remember lying full-length in the bath soaking up the warmth of the water, but suddenly you had to move as it got colder and you almost froze. The Coalman delivered a sack a week, tramping through the house, often leaving big wet footprints long the passageway. Being a terrace of 4 houses, there were no side entrances! I slept in the small bedroom, before the 2 sisters arrived my cousin next door was in the small room, and every night we would spend a while tapping the wall to each other.
During my school days I remember a Lady moving in with us. She was a retired matron from Warren Farm School and was an aunt of mum's brother-in-law. Being a single lady and working all her life she had not bought a property and needed lodgings. So she rented 2 rooms in our house the back living room and the big front bedroom. Of course it meant the three-girls sharing a bedroom and mum and dad making do with a very small room in order that "Auntie" was made comfortable. But we didn't take much notice and everyone got on well together, and no doubt it helped mum and dad with the finances. Having been a matron she was very strict although was always ready to help with us children. She listened to us reading and generally we all fitted in together I remember making a small apron in my needlework class school and had to do a hem at home. She was teaching me the stitch we were both standing under the electric light. I was 11 years old and got a bit impatient and my eyes were wandering round the room she realised this and whilst doing the hemming said "Ivy if you are not interested just tell me. I have more important things to do than waste my time on you!" I did appreciate her help really. I remember doing her weekly shop, in the nearby shops, it was such a small shop one person's rations were pathetic. The smallest amount of butter and cheese, were barely enough to go with one slice of bread.
The neighbours were friendly and there were several children of the same age, and we had great fun together. We started school and we played together whenever possible. The roads had little traffic so we had games to and fro, either chasing, hoping to catch one or other of them. A great favourite was "What's the time Mr Wolf?" And then someone had to be caught as we chased around. When it was holiday time from school, we would set off together; through the twitten between the houses, to the wide open spaces of the fields, taking our bags of sandwich and bottles of water. We often wandered round the farm seeing the cattle and sat on the hillside, eating our lunch.

There were no bungalows there in those days sometimes we would play hide and seek round the bushes and roll down the hillside, turning over and over. Come autumn there would be an abundance of blackberries and in spring lots of cowslips to pick. There was a rabbit Warren on the hillside and many a time the rabbits could be seen, popping in and out of their rabbit holes. Tottle Grass also grew in the cow field and I would pick a bunch for mum. In the corner at the top of the Hill is a dip, known to us all as "The Giants Poe" and many hours could be spent there talking amongst ourselves.
When we took the 11+ exam at school we got separated, many of us leaving Moulsecoomb School, where we started in the infants at 5 years old, transferring along to the juniors. Miss Tidy was the headmistress of the infants Mr Kitchen the headmaster. It was a good school, we all got on with our work, some better than others, and of course was the war was on, we would often have to leave the classroom when the siren sounded, and taking books and pens and pencils, run across the playground to the shelters, which had been dug out of the hillside. The 11+ decided the secondary schools we would attend if fortune permitted or to remain in senior classes at Moulsecoomb, until the school leaving age of 14 years old. I was able to attend Varndean School for girls, which meant 2 buses from Bevendean or a long walk down to the Avenue and over to Hollingbury. It meant leaving home very early, but we would meet with friends and walk together. If we walked home at the end of the day, we could save the fair and treat ourselves to something.
When I reach the age of fifteen I join the St Andrews Youth Fellowship, which fortunately met every Friday evening and we always had a very good program. Speakers on different interesting topics or may be a game or discussion evening. It was a mixed group of boys and girls and had various groups during the week such as badminton, drama, but I was limited to joining because of homework. Some evenings we would visit other church groups, which was good to meet and get fresh ideas.
When the war ended exchange holidays were arranged when a party of St Andrews Young people would visit Holland and Switzerland, and the experience was excellent, then of course we would host a party's spending time in Moulsecoomb.
There was a free will offering scheme within the church and for many years I would collect envelopes in a certain road from people willing to contribute to the church, every Sunday morning after the service. Members of the Fellowship were expected to attend church at least one service every Sunday, unless sick or an important engagement prevented it. I met my husband at the Fellowship there he was a bit of a rebel, but he kept to the rules and soon became very involved in St Andrews.
In 1957 we bought our house in Lower Bevendean Avenue where we lived until we moved to Saltdean. I remember my mother telling me she used to sit on the hillside with me at Higher Bevendean, watching the builders at work, building houses where we chose to live. We had 2 daughters Jean and Carol and always kept our connections with St Andrews, sending them to Sunday school, and I'm glad to say they still remember their happy days at the church, although unlike me, they both joined Brownies and Guides, becoming Queen's guides, had great times with the organisations. Both attended Lower Bevendean School until transferring to Westlain secondary school.
When I left Varndean School for girls, at the age of seventeen, I went to work in the accounts departments of an insurance company in North Street. I loved my job and stayed for many years never interested in changing to something else. It meant working at huge ledgers balancing the monthly accounts of many large businesses. If the accounts didn't balance even by trivial amounts we had to work late until they were correct. There were no adding machines or calculators in those days. Trial and error! I was very lucky to be so content.
My husband and I moved to 22 Lower Bevendean Avenue in 1957 buying our semi-detached house from Mr and Mrs Samuel Grout, a well-known Baker, who had a flourishing business in Coombe road. The house was similar in its layout to the Higher Bevendean house, although having a side entrance, being semi-detached was a huge asset. No more tradesmen needing to come through the house.