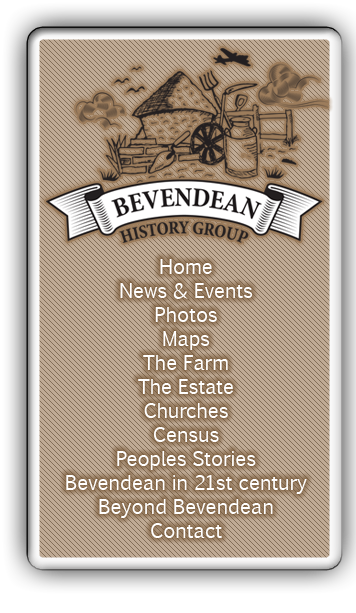 Peoples Stories - Bevendean History Project

Memories of Brown Loaf Farm by Frank Edwards part 1

I was born in 1938 in the back room of 107 The Avenue, Lower Bevendean, just in time to witness the 2nd world war, indeed my brothers always claimed that I was the cause !!
My parents were extremely poor, however we ate quite well due to my Grandparents (on my father's side) running a small farm at the top of Bevendean (near the Racehill). I made frequent trips with my father to the farm and have fond memories of those early days at Brownlow Farm (or as it was often called Brown Loaf Farm). Before the war ended I was making frequent trips with my friends to play around the farm and more surreptitiously around the outbuildings of Bevendean Farm.
We had to be aware of air-raids and our young ears soon became attuned to the sound of the different types of engine noise helping us to identify German aircraft. If we were nearest to Bevendean Avenue we would rush on our three wheel bikes to the shelters which had been dug by my father and the neighbours on the green in front of the house (near the parade of shops), these shelters were given a professional make over later when a whole series of shelters were created on the Downland between Lower Bevendean and Upper Bevendean.
After a raid we took great delight in scouring the Cows Field (as the meadow between Bevendean Avenue and Bevendean Farm was known), and the adjoining Downland for anti-radar flack (Strips of silver paper, sometimes black on one side). Poles and wire rope had been strung up over the Downs to prevent enemy aircraft from landing.
On the other hand if we were nearer to Bevendean Farm we would shelter in a small cave dug into the chalk bank of the track from Bear Road to Falmer at the point where it passed the farm. I am not sure of the purpose of the cave, it may have been to keep milk, or seeds cool.
The track from home to Brownlow Farm passed Allcorn's Bank, a copse of trees, you could take the path through the middle but this was not often done since the area seem to have an extraordinary number of snakes and it was not unusual to accidently tread on one!
Brownlow farm was a Childs paradise, next to the farm house stood an old, huge, steam tractor and next to that was the haystack. As if this wasn't enough there was a barn containing pigs, quite a few chicken sheds, and of course the horses which we would try to ride bare back!! My Grandmother who would be more than aware that we were playing there would give us a tea of home-made bread and jam, scones and a cup of tea. The loo was of the pit variety and stood beside the back door, after use you had to throw a handful of powder down. The kitchen was very primitive with a stone sink, a coal fired copper for the washing and a stove with an oven. The dining room table stood in front of a large window which overlooked the Bevendean valley.
My father had a younger brother (Uncle Arthur) and a sister (Ellen known as Sissy). Sissy married Uncle Bill (Peacock) a loveable man, a painter and decorator and a great favourite of mine. Whilst the family were against killing wild animals in principle sometimes a fox would make a nuisance of itself with the chicken and needed to be put down. After dark at night Uncle Bill would say, come on young Frank let's go and find him! Nearby at the bottom of the meadow was a large dump of scrap iron, old cars, corrugated iron and all sorts of stuff. The fox would often be there and with a shush to keep quiet we would wait, sure enough the fox would turn up and Uncle Bill never missed!!
Sometimes my Grandmother would take me to visit "Cousin Jack", who lived in a bungalow further down the track, not sure who exactly he was other than his name was also John Edwards.
I was also taken to visit Mr West, a large nearby farm; he once gave me a half crown for finding his tractor tax disc!
continued