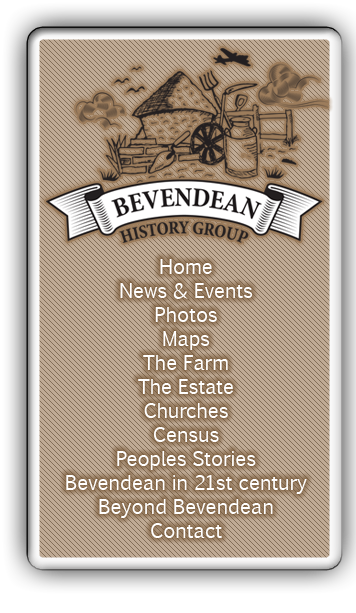 Peoples Stories - Bevendean History Project

Bess Tuppin's Memories of Coldean

I was born on 31 December 1925 in Cambridge and spend most of my childhood in Essex.
I came to Brighton on December 30, 1944. I came when I married Alf who was a Brightonian. We lived in Bernard Road just off Elm Grove; I was doing domestic work as it was the only thing I'd been trained for. I was a fourth housemaid in a big house in Essex before I came here. Alf was originally a gardener in the cemetery and later on went to the Downs Crematorium.
We moved to Coldean 58 years ago in 1957. I am still living at the same address. When we moved here, the school was built and the church was being converted, but a lot of the estate wasn't built. There was no Larchwood right opposite me for a long time, there was just a piece of waste ground and you could see right up to the shops. The first one was built, I can't remember when and then I saw that one knocked down and this improved one made, built on the site which was much bigger.
I was involved with the girl guides in Coldean, I was captain for 10 years and for another 10 years I went to camp with them as quarter master. The guides had lots of camps; we went to Foxlease in Hampshire we went to my test camp at a site just outside Battle. We went to Holland with the guides from Coldean, Moulsecoomb and Bevendean, there were 18 of us guides altogether and we stayed in a guide hostel and we had a very interesting week there.
The first thing I got involved with was the Jubilee celebrations of the Guides which was in 1958, I think. The guides had a whole day event at Withdean Stadium. The old Princess Royal came and the guides did country dancing and showed off their camping skills and we had a cake that was made up of guides with placards and the Princess Royal cut it with a big cardboard knife it was interesting but a very hot day. Once I had to go with the Brownies because their leader was ill to plant a tree in the Children's Hospital in Dyke Road. We used to go on lots of hikes over the Downs towards the Jack and Jill windmills and things like that.
I have been involved with the church almost as long as I've been here, we came in May 1957 and in September of that year, when we came back from holiday I was told that the vicar Fr Bess wanted to see me. Mr Hutchings told me that. Much to my surprise the vicar said "I hear you were involved with the guides", I said "I was a guide, but that was a long time ago". He said "well we haven't got a guide leader would you do it, otherwise we won't have any guides, and some of the mothers will help you"; so I got involved with the guides and that was that. There were 30 guides; I didn't know any of them at first. The Commissioner did come the first night, but otherwise I was left to it. Still we did some very interesting things. I learnt as I went along it's surprising how much I did remember.
Originally I helped in the church with Mrs Brown who was the school caretakers wife we used to clean the sanctuary and the Lady Chapel the men used to do the church because it had to be stripped every week as it was a dual purpose building but that's how it started and since then I couldn't list the number of things I've done at the church, we would be here all day I think.
Pam McKenna, who used to work in the Post Office, and I started preparing lunches for people when Peter Chapman was here as the vicar and they just had the hall built. There was an afternoon club for the old people they called it the Evergreens. We used to do a lunch every Wednesday for them we did that for some years. Later Kath Hammond and I used to help with all the events and we always did the catering. When Kath gave up I started to do it with a group of people including Peggy West and the Shaman's. We did the Harvest Supper and once we did one down at the Pavilion and Corn Exchange. That was when all the churches did a fete there and our part was the catering. We did the refreshments using the Dome kitchen and I've never seen so many great big stoves, I don't know whether they are still there, it was quite an effort.
Then there was a Carnival at Coldean where several of the organisations joined together. The first one was lovely there were floats and I was in the refreshment tent and we did very well. But the second year it poured with rain the whole day, it was a complete washout we had a tent for the refreshments, but people were coming in there and staying in there, so we didn't really sell very much because people couldn't get to us. I can remember packing up and all this food was left like rolls and scones. Barbara Wilson came to my help and we packed them up into different bundles. The Butcher we had then, put a lot of it in his freezer for us and Barbara took some for her freezer, it was just a nightmare. People were bringing things to my home and standing them in the sitting room, I couldn't move for the different trays of food. But oh it was funny when you stop to think about it, but at the time it was a just a nightmare.
Fr Bess was the first priest at Coldean he actually organised the church from the start. Then we had Derek Payne who was here for 2 years. Then we had Derek Cordell who was here longer, he, kept in touch for a long time after he left. He was very tall and he wore a cloak that made him look like a monk. I remember once we had a very little person on the estate, Mrs Farmer and he was very tall and at one of our shows when they had a stage at the back of the church. He came on and he opened his cloak and little Mrs Farmer was in front of him and it did look so funny.
Then there was Peter Chapman who decided that we needed a Hall and did his very best to get it built. He did get it built, including getting up on the roof the night before the tilers were due to come because the roof timbers had collapsed. This involved a lot of men who spent nearly all night putting the roof timers back in place. He also organised the extension to the church where we now have the two committee rooms and the porch. He got a group of people from the congregation including Ron Mepham and they built the church extension. I remember coming over to make tea for them and vicar was digging in a trench for the foundations in just with a pair of shorts. My sister-in-law came with me and she said "you never saw the vicar" and I said "yes you did he was the one digging in the trench". When he left he joined the Navy.
Then there was Shay as we called him, I can't pronounce all his long name (Oluseye Olumide), who was a Nigerian and that was another terrific eye-opener. His ideas were different to ours, they took a lot of getting used to, but we got on very well in the end, we had a few ups and downs with him. He had 5 little girls and I think 3 of them were born before he left here and then he had 2 more, but unfortunately after he left here they all died in a house fire. Len and Dorothy Reid kept in touch with them; they went to Birmingham after Coldean. Then Glyn Grant came, he had only one son and in fact it's not that long since he died, he spent the last few years in St Bartholomews, it's a home at Lingfield, Surrey for retired priest.
And then there was Marcus Ronchetti who was another complete change, when we first saw him Len Reid said to his wife "put your handbag away there's a couple of scruffs out in the church grounds. But his heart was in the right place, he was a lovely man.
Then there was Fr Paul who persuaded me to be churchwarden which I think was the wrong thing altogether really, but luckily it worked out quite well because Ron Brown was the other churchwarden. He liked doing all the things out in front and talking to people and I was the one who was able to stay in the background and be there to let people in and things like that.
Then there was Fr Colin Lawlor who is chaplain at Brighton University and still comes up to see us.
Then we had Christopher Woodman for about 3 years, he was a very shy man.
Then we had Rachel who came as a Deacon and was made a priest here with the actual ceremony at Coldean, which was quite nice to see. And now we've got Rev Betsy.
There have been lots of changes in Coldean really. I think that Larchwood has made a lot of difference; they've tried to draw the community more together, we've worked quite well with Larchwood and now they run a cafe and they have lots of things going on there as well. The school too have come over to the church at Christmas and Easter. At Harvest time the whole school comes and so we have to clear everything out and they just manage to all squeeze in on the floor. That is lovely; I think Coldean now is much more of a community than it ever was. Well it might have been in the very beginning, but we lost it a bit and then it's come back again and it's getting we are doing more things together.
The best thing about living here I think is the fact that you know it's almost like a village there's a bit of green everywhere you look and yet you're not that far from the town or the sea and so were very lucky really that we've got everything here, that I think we need.
I use the local shops and go over the hill to shop at ASDA, but lately I've been using the local shops a lot more, I've always use them especially when we had the greengrocer and the butcher here which we do not have any more, that was very good because we got everything locally when we used to do those lunches. The butcher used to sort out the meat for me and the greengrocer was very good. The chemist has always been here and the original chemist was Mr Olver who was very good and now we have Manish who is also very good, so you can always get help from him.
Mr Olver was very much involved in the church, he was a churchwarden, he and his family were very much involved. His daughter loved horses and she used to get us a donkey for the Palm Sunday parade which they used to parade through Coldean. Originally they had 3 processions one started at the Roundway, one started at the bottom of Coldean Lane and the other one started at the top of Hawkhurst, this was where the donkey started. They all meet up by the shops and processed down to the church on Palm Sunday. And then we had an outdoor service in the church grounds where we've got the car park now. We didn't have a car park as such then as not many people came to church by car on a Sunday. The servers used to be in their white albs and came down and they all had palm branches, I think we've still got them unless they have been thrown away. We had a boy sitting on the donkey and Penny Olver used to lead it dressed up in robe, I think it was a very thick dressing gown. The Salvation Army band used to play for us.
When the hall was first built I was doing the caretaking and in those days they didn't all have keys like they do now, so I was going over and letting people in and coming back and locking up after them, it was quite a job but I enjoyed it because I meet all the people. We had the Boys Brigade then, we had lost the Guides and the Scouts had gone down and joined the St Andrews ones. The Guides had stopped because some of the ones who took over from me were at the teacher's training college. They said there will always be someone to follow us and of course eventually there wasn't so that packed up. The Brownies went on for a bit longer and then they could not get leaders. Then we had the Boys Brigade they used the hall and then they joined up with the one at St Andrews.
This is an edited transcript of a recording with Mrs Bess Tuppin for the History on Your Doorstep Oral History Project recorded on 2 June 2015 and held at the KEEP, © ESRO.