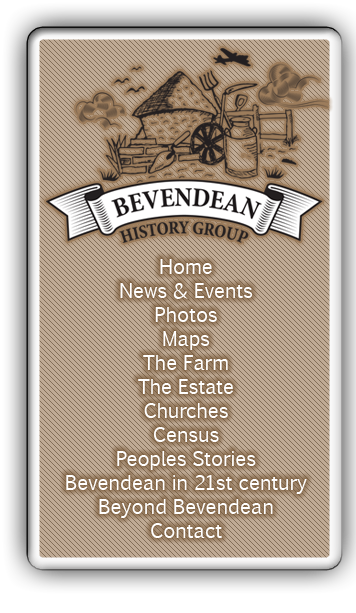 Churches - Bevendean History Project

Falmer Church


The Parish of Falmer
Bevendean Farm was originally in the parish of Falmer a distance of 2.5 miles along the cart track which climbed up over the Downs out of the Bevendean valley.
Falmer church viewed across the pond from the south.
The church of St. Laurence at Falmer consists of a nave and chancel with a vestry to the north of the chancel, a west tower, and it has a gallery and organ loft at the west end of the nave.
Church registers start in 1649.
The east end of Falmer church towards the altar.
Rebuilding Falmer Church
In 1815 the churchwardens at Falmer borrowed £300 to rebuild the church at Falmer from the Earl of Chichester.
A notebook of Frederick Jones of East Hoathly (1842-1931), who was a Pelham estate servant, gives the following information. Falmer Church was rebuilt by the liberal encouragement and aid of the Earl of Chichester mainly on the foundations of the former church. The first stone was laid by Henry Thomas Lord Pelham who was then 11 years old on 1 May 1815 and was opened for Divine Service on 24 December 1815. This seems a very short period to rebuild the church.
A photograph in the Sussex County Magazine published about 1936 has a picture of Falmer church from Newmarket Hill and has the text "The church was rebuilt in 1817".
Enlarging Falmer Church
On the 24 March 1840 a contract was drawn up between Joseph Davy of Lewes, builder, William Davey of Lewes, plumber and Henry Davey of Lewes, saddler, with Henry Thomas Pelham, the Earl of Chichester and James Hodson and George Hilder, gentlemen, the churchwardens for enlarging Falmer church. It would appear that at this time a Vestry was built on the side of the church, the church was furnished with new pews and the churchyard was extended.
The west end of Falmer church showing the balcony and organ.
Uniting the parishes of Falmer and Stanmer
The Rectory of Stanmer and the Vicarage of Falmer were formerly separate Benefices, but as early the mid-1600s application was made for the Rector of Stanmer to take Falmer as well, and for the next 200 years this plan was nearly always pursued.
The Parsonage House of Stanmer was in the Village, near the Church, with glebe land within Stanmer Park near the Village.
The Vicarage House of Falmer, with its buildings and grounds was near the road leading from Falmer to Rottingdean.
In the year 1809, there was an Act of Parliament (49 George III.) for uniting the Benefices but this was not followed through. There was another Act in 1835 which finally united the benefices of Stanmer and Falmer.
Norman Allcorn's grandparents Frank John Allcorn and Edith Lucy Allcorn are buried in Falmer Church Yard. Frank Allcorn was the tenant farmer at Lower Bevendean Farm from 1908 to 1942.
Gravestone for Frank John Allcorn and Edith Lucy Allcorn.