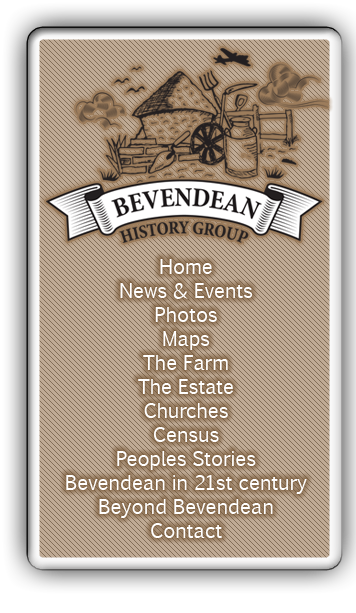 Bevendean History Project


New
s and Events

NEW
| | |
| --- | --- |
| The ARP Shelter at Downs Junior School in Ditchling Road has been refurbished and is open to visitors some weekends during the year. | |

NEW
| | |
| --- | --- |
| Photograph of South Moulsecoomb from about 1923 showing St Andrews Church dedicated in November 1922 and the first church used as the church hall. | |

NEW
| | |
| --- | --- |
| Willow Tree blown down at 50 Heath Hill Avenue on 2nd November 2019. This tree gave the former Doctors Surgery its name. | |

NEW
More Peoples Stories from World War 2.


NEW
Air Raid Precautions in Bevendean & Moulsecombe in World War 2.


Bevendean during World War 2 and wartime Cooking Depots in Brighton with more information on a Hurricane Fighter which made a forced landing near Bevendean.

Building St Andrews Church and Hall, plans and photographs from 1922 to 1958.

Falmer and Stanmer Roll of Honour for World War 2 found in the organ loft at Falmer in 2018.

What was Coldean like in 1939? A registration of the civilian population in England and Wales was taken in 1939.

Recollections of a Stanmer Farmer, Mr Albert West, whose family farmed at Stanmer from c1900.

The cross is restored to the roof of St Mary Magdalen Church at Coldean in December 2018.

Revd Martin Powell licensed as Priest in Charge of Moulsecoomb in December 2018.

Steve Hazell memories of Bevendean
, he
was born on 11 August 1951 in Hornby Road
, Lower Bevendean.

Additional photographs have been added to the page of photographs of Moulsecoomb Place
.

Revised Layout
The

Recipes

can be found in the Farm section and the

Original Press Release

is now at the bottom of the news page.
The section

Bevendean in the 21st century

will contain information on Bevendean from the year 2000.
Beyond Bevendean

now contains information on the Parish of Falmer since Bevendean was in the Parish of Falmer until 1931.
It also contains information on Moulsecoomb, Coldean and Stanmer can also be found in this section.

The Bevendean History Booklet was published in 2014
A copy of the booklet is available for a small donation from the LECCA Cafe in Leybourne Road, Lower Bevendean.
http://leccacafe.co.uk
Alternatively you can use the contact form on the website.


Press release: Action for Bevendean Community - ABC, wins £10,000 Heritage Lottery Fund support for local History Project!